Oh boy, Satan is pressing in. He's at it again and trying to get me to cave. Sometimes it feels like this war will never end. Can you relate?
I hear myself saying to God, "Father, just take me home. I'm tired of the enemy." Do you ever say similar words to your Heavenly Father?
If the battle is fierce for me, I thought about how horrible it was for the early church leaders. They faced opposition every where they went. They were cast out of synagogues, thrown out of cities, rejected, hated, beaten, and tortured.
But then Paul writes: "We are pressed on every side by troubles, but we are not crushed. We are perplexed, but not driven to despair. We are hunted down, but never abandoned by God. We get knocked down, but we are not destroyed" (2 Corinthians 4:8-9).
I wondered how Paul could have had such a positive attitude in the middle of such havoc? Perhaps God reminded him of the same thing He reminded me of this morning.
As I reflected upon the hardships plaguing me right now, I heard God whisper, "My LOVE conquers everything!" I couldn't get it out of my mind.
When I got home from church, I went directly to a familiar passage, but one I needed to reflect upon today.
Listen carefully to what the Apostle Paul says: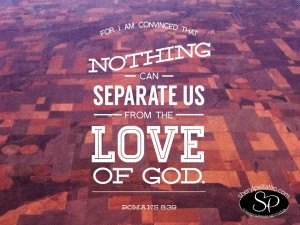 Can anything ever separate us from Christ's love? Does it mean he no longer loves us if we have trouble or calamity, or are persecuted, or hungry, or destitute, or in danger, or threatened with death? …NO, despite all these things, overwhelming victory is ours through Christ, who loved us (Romans 8:35-37).
My heart was comforted! So, I kept reading:
No power in the sky above or in the earth below – indeed in all creation will ever be able to separate us from the love of God that is in Christ Jesus our Lord (Romans 8:39).
Jason Crabb sings: "Life is tough, but love is stronger." I would say, God's love is stronger.
It's stronger than your…
Deepest concern
Hardest trial
Strongest opponent
Largest giant
Heaviest weight
Most difficult obstacle
Heftiest crisis
Scariest dilemma
Most invasive quandary
Sometimes we think that we'll never see the light at the end of the tunnel. So, we get depressed and withdrawn. We listen to Satan's lies and we feel trapped. Trapped with no way out.
But here's a truth we need to hang onto: God's LOVE is stronger.
At the cross of Jesus Christ, His love was poured out. In fact, the cross is a marvelous display of Christ's love for you and me.
When we bowed to His Lordship and invited Him to become our Savior, His love greeted us.
Jesus' love is over you, above you, in you, through you, before you, and behind you.
Here's a verse to hold onto: "His banner over me is LOVE" (Song of Songs 2:4).
This means that God's love bursts through every time. Just wait. You'll see!
Keep trusting. Keep looking. Keep seeking. And keep believing.
If your struggles are too great right now, then fall into His arms of love. Read some of the famous Bible passages on love again and again. Read them out loud. Tell God how thankful you are for His love.
Rest in Him today and let Him overshadow you with His love. It is His pleasure to show you just how awesome His love is.
I always share what's on my heart and what God is speaking to me about. This topic today is huge for me. I hope it is for you, too.
Please share your comments in the comments section.
Love and Blessings,