In his book Unlimiting God, Richard Blackaby said: "After many years of walking with God and seeking to go deeper with Him, I've drawn this conclusion: We limit God." Nothing in Scripture tells us that our God has limits. It's our perception and our own limited view of God that limits Him.
As we look to the future, especially in regards to the upcoming election, I felt led by the Holy Spirit to write this post.
Long ago in the Old Testament, when Moses was the leader of the people and it was time for him to receive the Ten Commandments, God said to him: "Put limits for the people around the mountain and tell them, 'Be careful that you do not go up the mountain or touch the foot of it. Whoever touches the mountain shall surely be put to death'" (Exodus 19:12). You see, the people in the Old Testament—the general population—was kept from experiencing more or understanding the greatness of their God. Moses was the only one allowed to advance up that mountain to look into the face of God's absolute power.
That was the Old Testament. But Jesus changed all that for us. Through His death, He brought us into reconciliation with God (Ephesians 2:12-18).
Not long ago my pastor asked the congregation: "Aren't you glad you live on this side of the cross?" All around the worship center, you could hear loud applause and people unanimously declaring "Amen!" When I compare the limitations of the Old Testament saints with the incredible benefits of New Testament believers, I am oh so glad that I live on this side of the cross.
Sadly, though, I'm certain that most of us are still standing behind the barrier at the foot of the mountain gazing up at its peak. We have settled! Jesus Christ broke down those limitations, but we are still at the same place. God wants us to know His power more. God wants us to experience greater things. And He wants to do greater things in us. But we are the ones who have limited our God, and those limits are keeping God at a distance.
This topic is broad, but today let me show you two ways you can un-limit God.
To un-limit God, we need to…
Expect God to speak!
Jesus said to John, "Here I am! I stand at the door and knock. If anyone hears my voice and opens the door, I will come in and eat with him, and he with me" (Revelation 3:20). When you're eating with someone, you're talking. Usually a two-way conversation. The same is true of your meal with Jesus.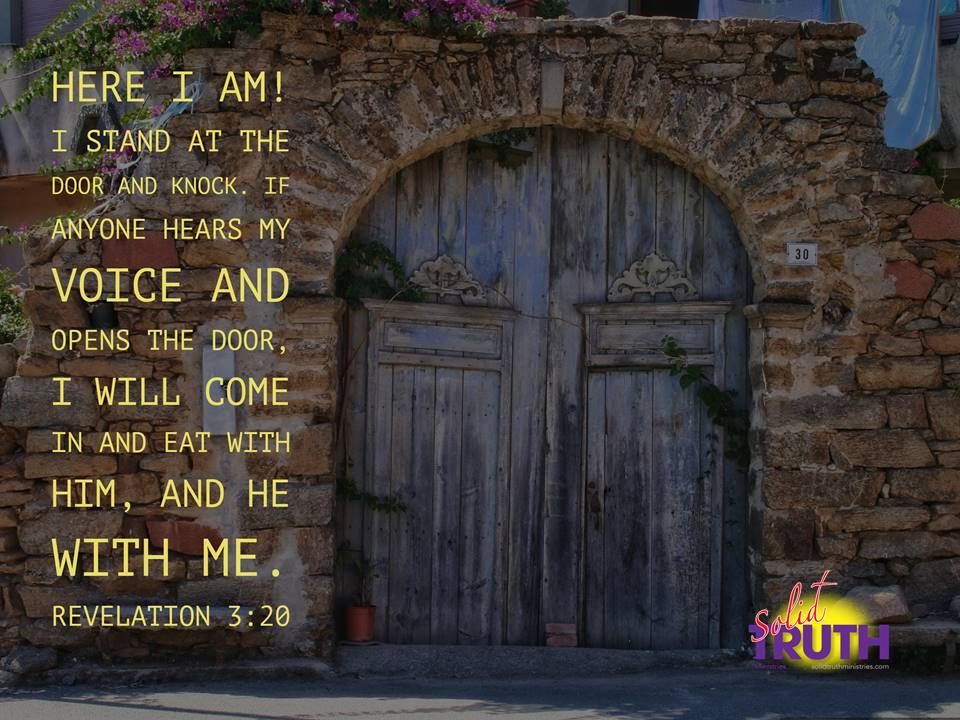 I would like to clarify a sometimes wrong thinking for the believer. God is never silent! And He has something to say to each of us, if only we would take the time to listen. Sometimes we become accustomed to other voices or we limit God's voice to short devotionals, books, or preachers. Now please hear me: there is nothing wrong with devotionals (Jesus Calling by Sarah Young and My Utmost for His Highest by Oswald Chambers are two of my favorites). However, if we limit God's voice to outside influencers, then we are missing what He has to say to us. God loves His children so very much. You and I are each special in His eyes, His treasures. Regardless of how we feel, God has a word for each one of us individually. God loves to talk, so He has lots of things to tell us. And when God speaks, it always lines up with Scripture.
Each person is different and the way we do things is different too, but I wanted to share how I've listened. My bookshelf is filled with journals—conversations I've had with God. Most mornings when I approach the throne of God, I hold God's Word before me. He leads me to where He wants me to read. I ponder His Word, and then write down the specific verse or passage that's speaking to me. I usually write a prayer—whatever is on my heart. And then I listen for God to speak. I write down what He tells me. Over time, I've built quite a library of our personal conversations. I love to go back and read what He said. Here is one recent excerpt from my prayer journal as God spoke to me:
         "Precious One, I'm here right before you. I am in front of you unveiling the truth in marvelous ways. My light is bright. I want you to look into My face so I can reveal more of Me. I want you to move in the power of My Spirit. Don't look to the right or the left. Keep your eyes on Me.
         Thank you for coming into My throne room each day. Thank you for bringing your praise and your thankful heart. I am pleased with you. I have called you My friend. Beloved, you are a beautiful treasure in My eyes – a radiant light. My life has been poured out for you and My grace abounds in your body and your soul. I love you so much."
God has given me specific words—or visions—for my loved ones, my ministry, my life, my church, and the world. Sometimes it's a word of exhortation, a way to conduct myself, a promise, a revelation, or a word of encouragement. Always God shares His heart with me, especially His love. And it's always aligned with love. Each day, I leave my Prayer Room with a heart lifted up and excited for the day ahead.
You may be in the practice of listening to God speak. But this I know: He is waiting for you to come and listen. He has something to say to you. How will you respond? 
To un-limit God, we need to…
Examine God closer!
Picture this scene. While you and your friends are busy working in the fields something catches your eye. In the distance—on the top of a mountain nearby—you see something flickering. Your curiosity gets the best of you and you summon your friends to go check it out with you. They are just as intrigued, so together you begin the trek up the mountain. Not long into the journey though, you get winded and your body is aching. You begin to wonder if it's really worth it. Each step upward gets harder. You and your friends decide to rest for a minute. You are the first to speak up: "I think I've seen enough. I've enjoyed the experience and the exercise, but I'm good. I don't need to go farther. I'm turning around and heading back down the mountain." Some of your friends do the same, but others are still way too curious to let fatigue stop them. So, they continue. They want to see what it is, no matter how hard the journey is.
I share this scenario to say that I think we often approach our spiritual lives like this. We want to know more, see more, and experience more of God. But the journey becomes too exhausting. Busyness gets in the way, life interrupts our intentions, or we just lose interest. Therefore, we put limits on how close we draw to God. God is beckoning us to come closer, but we choose to stop and not continue. We determine that we're good and we have seen enough. I have a feeling that the shepherds in the field were glad they followed the star that night as they were the first to witness God's greatest plan unfolded—the birth of God's Son. Imagine the stories their families heard when they returned home.
Here's something to ponder! God is knowledge and wisdom. There's much more for you and I to learn. He does not put limits on how close we can draw to Him. But we often do.
Beloved, I hope you realize that God is unlimited and we need to approach Him in that way. We need to un-limit God. Here's a list of ways we sometimes limit God. Circle any you recognize (it might be all of them), and then ask God to help you un-limit Him.
                        His voice                     Our relationship                    His power
                       His knowledge          His wisdom                             His word
                       His presence              His character                         His commands
My mom often says that we shouldn't put God in a box. But that's what we often do. God can do anything. His ways are higher and different than our ways. Things change for us when we learn to un-limit Him.
Of course, there's so much more to this topic but I hope this is a good start for you, though.
Please share this with your friends. It could very well change their perspective on their circumstances, their ministry, and their world.
Blessings,