Sometimes it seems as though God has forgotten us. We've prayed! We've sought! We've waited! And yet, why hasn't God shown up and handled the situation?
Trust me! I know! I've been praying for a loved one for a long time. It seems like an eternity. No really! Years of prayers. I've prayed Scripture. I've been on my knees. I've shed tears.
Can you relate?
All I want is to see this beloved one walking with God. More than making lots of money and finding success in the world, I want him to know Christ – to live for Christ. While he is a Christian, he has yet to surrender his life to Christ.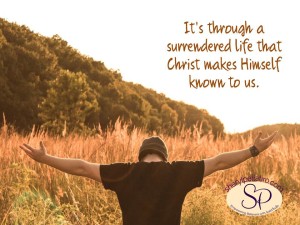 Surrender makes all the difference in the world. It's through a surrendered life that Christ really makes Himself known to us.
And this is what I've been praying for for such a long time.
In fact, God has given me several obvious signs that He has a great purpose for my loved one. I heard God speak to me, almost audibly. God has a call on his life.
Yet, why hasn't God rescued my loved one from the deep place of self-centeredness?
I must tell you that I've questioned God: "Lord, when?"
And sometimes it seems like He's silent. Like He's forgotten!
I've been pouring over the death of Jesus for an upcoming Bible study message. As I've pondered Jesus on the cross, I came to realize that He probably felt the same way. In fact, He cried out to His Father: "My God, my God, why have you abandoned me (Matthew 27:46)?" 
For six hours Jesus writhed in excruciating pain. For six hours Jesus looked upon those who loved Him and those who hated Him. And for six hours, it seemed as though God had forgotten Him.
God couldn't look upon Jesus on the cross because of the sin He bore – your sin and mine. God is holy and cannot look upon sin.
Total silence by God! Would Satan win? Would God show up in the midst of this evil? What was God doing?
Darkness overshadowed everything.
Jesus finally breathed His last and gave up His spirit. He had died.
But then…
BOOM!! God shows up!!
He caused the earth to quake so hard that the rocks split open. Graves opened up and people came back from the dead. These risen ones went into Jerusalem and talked to people – people who had known them. And the thick curtain in the Temple was split from top to bottom.
Seeing all these things, some soldiers guarding the cross exclaimed: "Surely this must have been the Son of God (Matthew 27:54)!"
God had not forgotten. In fact, He was getting things ready – ready to move the world.
Satan would not have the last word. God would!
So, my friend, silence from God doesn't mean that He's forgotten or that He's not paying attention. Quite the opposite!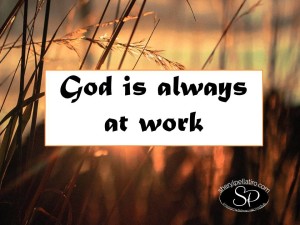 God is always at work. And He is faithful to come to our rescue.
Here's the thing: if it seems like God is taking a long time in coming, know that He's got something really awesome planned. He didn't just show up at Jesus' death, but He displayed marvelous acts of power.
Such power that the soldiers at the cross believed.
So, hold on! Don't give up! Keep trusting and believing. Keep praying. And wait expectantly.
God would never forget His people. God would never forget you.
He is on the move right now. I'm holding this truth near and dear to my heart. Will you do the same?
Love and Blessings,