Today's blog marks the final message in our Joshua series. For the last six weeks, we studied through Joshua and our lives have been transformed. If you would like to purchase the Joshua book, click here…
Joshua was chosen for such a time. He faithfully served God and his predecessor, Moses. With God's instruction on his mind (Joshua 1:6-9), His promises tucked in his heart, and the soldiers prepared, they would move out. They would capture the land promised to them. They would march forward fearlessly and claim what was already theirs.
At the first sign of daylight, Joshua would call the army together and they would begin their march around the city. It would take a week to capture Jericho, but once the walls came crumbling down, the army would move forward in the power of God.
They didn't just march. They marched fearlessly.
Friends, the war is still raging. And you've been called to the front lines. You've been chosen for God's army to march forward and take back what's been given to you – what the enemy has taken from you. For many, Satan has stolen their hope, their peace, their joy, their confidence, and their self-esteem. He's also taken loved ones, relationships, marriages, and families.
So the question becomes: Can we have victory like Joshua and his army? Can we destroy the enemy seeking to devour us? The answer is yes. But we must march fearlessly, because our great enemy will make his move the moment he senses weakness. He's just waiting. Let's not let him win.
With that said, let me offer 5 ways we can march fearlessly:
1. Stay in Unity with Others!
Joshua and his army marched around the city in unison. They moved forward together. Chaos and division come from disunity. We cannot be successful or victorious if we are not on the same page with those we are partnering with.
The apostle Paul urged the Philippian church toward unity: "Make my joy complete by being like-minded, having the same love, being one in spirit and of one mind" (Philippians 2:2). He goes on to say, "Do nothing out of selfish ambition or vain conceit. Rather, in humility value others above yourselves, not looking to your own interests but each of you to the interests of the others" (Philippians 2:3-4). 
Here's one of the most important things: the cross of Christ will be emptied of its power if there's disunity. Disunity is the perfect open door for the enemy to easily slip through without being noticed. Let's work on unifying ourselves with others.
2. Keep your guard up!
Joshua and the army of Israel easily attacked Ai (Joshua 8:1-29). This city fell for the Israelites' trap because they had let their guard down.
Satan is pursuing us with a passion, setting traps along the way. The traps are well concealed. We often don't recognize them until we've fallen in. Once we're ensnared, it takes a lot of work to get back out. And by the time we do get out, Satan has left a trail of destruction. We need to always keep our guard up. Don't let sin reign. And keep God's Word in the center of your heart and mind. These are sure ways to not fall for the tactics of God's greatest enemy.
3. Always inquire of the Lord!
Joshua was very successful at conquering the land of Canaan. He surely was a mighty warrior. Israel was smaller in both numbers and power than the opposing armies. But they saw victory every time, except once. Joshua and the leaders of Israel were deceived by the Gibeonites (Joshua 9:1-27). The Gibeonites lied and put on false pretenses. We learn in this passage that the reason why Joshua and the leaders fell for it is that "they did not inquire of the Lord" (Joshua 9:14).
Trust me, Satan still "masquarades as an angel of light" (2 Corinthians 11:14). He's sly, deceptive, and purely evil. So, when you're about to make an important decision, you are unsure about something, or you need discernment, make sure to always inquire of the Lord. He will then lead you in the right way and reveal anything that isn't of Him.
4. Have the soul of a warrior!
Joshua surely had the soul of a warrior because he moved forth in the power and strength of God. He marched with victory on his mind, even though he was up against huge obstacles.
It's important that we go forth in God's Spirit and His power, too. David said to Goliath (that 9-foot giant), "You come to me with sword, spear, and javelin, but I come to you in the name of the LORD of Heaven's Armies" (1 Samuel 17:45). David had the soul of a warrior.
5. Throw down your weapons and pick up God's weapons!
The Canaanites (like Goliath) fought with swords, spears, and javelins. Strong weapons. Battlefield weapons. But in the end, there isn't a human weapon that can come up against God. NO ONE can win if they're fighting against God.
This war is intense. Strong. Fierce. And it's easy to fight with words, silence, manipulation, emotions, and gossip. Human weapons. But here's the thing: we will NEVER win the battle fighting with our weapons. We need to throw them down and pick up God's weapons: the Word of God, prayer, Jesus' Name.
Remember…
It's not by force, not by strength, but by my Spirit, says the
LORD of  Heaven's Armies. 
Zechariah 4:6
So, let's march forward FEARLESSLY!
If you want to learn how to become a mighty warrior and a stronger leader like Joshua, then you'll definitely want to work through our Joshua Bible study. It's well worth your time.
Stay tuned for more information about our ACTS Bible study in January.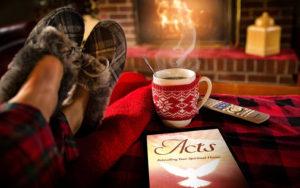 Click here to visit our website for more information, upcoming classes, and Bible studies.
Blessings,