All over the world, people are celebrating Easter weekend. As I write this, it's Saturday – the 2nd day. I got up this morning pondering what it might have been like in Jerusalem on the 2nd day. 
For most of the city, it was just another day. Yes, chaos had filled the air the day before, but life went on. It was just another day.
But for Jesus' followers – His beloved ones – life stood still. In fact, it seemed to have come to a screeching halt. 
The day before was a blur. They watched their loving Savior savagely beaten and then nailed to a cross. They witnessed Him writhe in excruciating pain. And then they saw Him die.
Confusion was their daily companion. Nothing, or no one, could help them out of their grief.
I'm guessing not many of them slept. They kept replaying over in their minds the horrible atrocities they witnessed with their very eyes. Perhaps they were trying to piece together Jesus' last words. What did all this mean?
Peter needed hope! Anything! The last thing he remembers is denying his Savior in His most crucial hour. How could he do such a thing? Will the pain ever go away? Will life ever resume?
Mary Magdalene couldn't stop crying because she loved Jesus so much. He delivered her from 7 demons and from that moment, she was by Jesus' side almost constantly. She missed the tender conversations she had had with Him. Will she ever smile again?
Jesus' mother was just grief-stricken. She remembered the way He had looked at her from the cross – such love. And then she had watched her beloved Son take His last breath. 
Jesus died! He was taken off the cross and put into a new tomb. And His followers went home. How could this happen? Such darkness covered their places of residence and gloom resonated in each heart.
Then on Sunday morning, something happened. Mary couldn't get to the disciples fast enough. When they opened the door, she burst in and without a second to spare, she yelled, "I saw Him. He's alive!" 
What? How can that be? Doubt circulated, but Peter and John needed to check it out. They saw the tomb just like Mary had described. EMPTY!
Later that day, Jesus would appear to all the disciples. It's Sunday and the sun finally peaked over the horizon. Their gloomy hearts lifted! Joy filled the house. Laughter could be heard into the neighboring houses. 
Peter's heart was given new life. Mary's grief turned to joy! Jesus' mother got her son back, but in a brand new way. And the disciples just couldn't stop smiling and worshiping Jesus, their beloved Savior. 
On this Sunday morning, the clouds had rolled away and the sun shone brightly. 
This is a story of hope for each of us. You may be going through something horrible and the grief seems too much to handle. You think that you will fall under the weight on your shoulders. 
But I'm here to remind you that the sun will shine again. Just wait and fix your eyes on the empty tomb. Jesus came back to life and lifted His followers from the pits of despair. 
He can do the same for you. He will! The clouds never linger forever. Hold onto the resurrection of Jesus and know that He's coming to rescue you.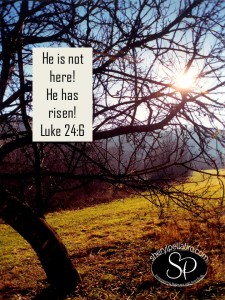 The angel said to the women who had come to the tomb: "He is not here! He has risen" (Luke 24:6). 
This was hope! We all need hope. Jesus is the ONLY ONE who can give it. And it all starts with this story on this Sunday morning. Read it again and hang on.
Please share this with someone you think may need it. And please share your comments in the comments section below. 
Have a Blessed Resurrection Sunday,