In the New Testament, perseverance is a character trait; the strength to keep on despite disappointments and difficulties.² Perseverance can be challenging, especially when our trials are severe. But God will provide perseverance if we only ask.
There are many stories of people who persevered through trials, and one that was portrayed on the big screen is of the Olympic athlete, Eric Liddel. His athletic journey was brought to life in the movie, "Chariots of Fire." But years after his rise to fame, he endured many hardships. During the 1930's and 1940's, Eric and his family served the Lord as missionaries in China. As war broke out during World War II, China became riddled with turmoil. Sensing the danger and not sure what the future held for China's missionaries, Eric sent his family home, while he stayed behind to continue the Lord's work.
Shortly after his family left, Eric was forced from his home and sent to a concentration camp and held prisoner. Each day he faced uncertainties. I often say, "When life gives you lemons, make lemonade." And that is just what Eric Liddel did. He made the best out of the situation. He taught Math and Science classes to the teens, organized team sports, directed musical concerts, and presented the Gospel whenever possible. Many accepted the Lord. The periodic letters he sent to his wife were always positive and encouraging. Eric Liddel lived in this camp for two years until his death in 1945 shortly before the war ended. He never saw his family again.
Years later, many of those imprisoned with Eric Liddel shared testimonies of the influence he had on fellow inmates. Consequently, we can believe this Olympic athlete and missionary persevered in his trials. In spite of the circumstances, he allowed God to use him to influence the lives of so many. We can do the same. 
The Book of Philippians was written when Paul was under house arrest. Read Philippians 1:12-14, and explain how Paul persevered in his trial.  
Read Hebrews 12:1-3. 
What words describe sin in this passage of Scripture? 
According to these verses, how are we to run with perseverance?  
One of the keys to perseverance in this Hebrews passage is verse 3. Ponder these words, and then write down how perseverance under our trials can be attained.  
Based on Hebrews 12:1-3, picture this scene with me: There is a race marked out for you. You have been chosen to run the 800-meter race. It's a difficult run—long, grueling and tiring. So, you have one of two choices: 1) Stand on the sidelines complaining because it's too difficult, or 2) Choose to run it. With only seconds to decide, you hear that quiet voice reminding you that it's better to run the race than to not even try. Therefore, with undaunted boldness and confidence in the Lord, you walk down to the starting block to get ready.
This, Beloved, is a picture of the race God has called us to. You and I may not be prepared when our name is called. And it could be the most difficult race we have ever run. Either way, we can choose to run the race or we can choose to sit it out. To prepare ourselves for this race, Hebrews 12 gives us some guidelines to help us persevere.
First, we need to "throw off everything that hinders and the sin that so easily entangles" (Hebrews 12:1). Sin cripples! It stands in the way of our success. Sin is like a strait jacket—it keeps us confined so we are unable to enjoy freedom. Our sin could be anything. If you are struggling to hear God's voice, examine your life and see if there is something holding you back.  
Now is a good time to bow your head and ask God to reveal any sin that is holding you captive. Acknowledge it to the Lord and then release it at the cross. Write your prayer of confession.
Second, we need to "fix our eyes on Jesus" (Hebrews 12:2). Can you picture the athlete bent down on the ground, feet in place, hands positioned on the cement, just waiting for the sound of the gun? As the racer stares at the finish line, I have often wondered what he must be thinking. Is his life flashing in front of him? Is he thinking about his loved ones—those who have sacrificed everything for this moment of fame? Is he worried about tripping? Is he remembering the grueling hours of training and the difficult journey to get here? Or is he focused on the prize at the end?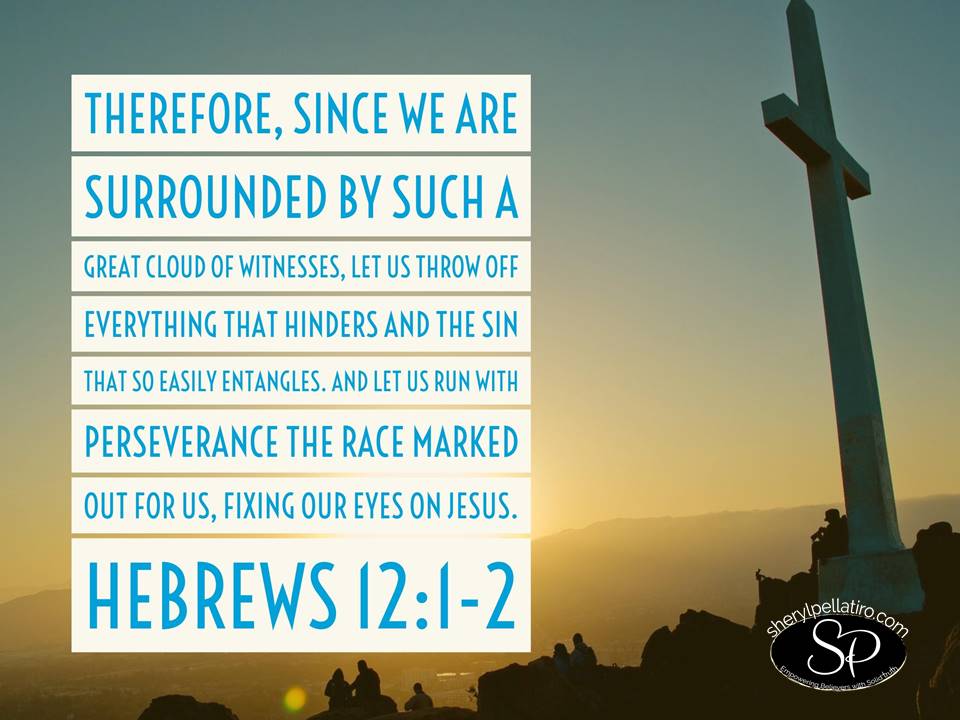 Hebrews 12:2 tells us to fix our eyes on Jesus. This is one sure way for us to persevere. Think about Jesus. Think about what He went through. The suffering He endured. The excruciating pain He felt. Because of what Jesus went through, we are offered an eternal inheritance and the awesome gift of forgiveness. His suffering and death gave us life. Not just life, but abundant life (John 10:10)! You have hope. If Jesus could persevere, then you can, too.              
Beloved, when life seems unbearable and your circumstances are crushing your spirit, think about Jesus. Open His Word and read His story again and again. Ask Him to reveal a new truth to you. Following this simple biblical advice can help us to persevere in our trial.
In this race, Jesus is your audience. He is standing on the bleachers waving a banner with your name on it. He is cheering you on. He is also positioned on the sidelines wiping your forehead and offering you a cold drink as you stagger on. He is the One who will help you to persevere. Instead of giving up, ask Him to help you. Guaranteed, He won't let you give up.  
After we have run with perseverance, what can we look forward to at the finish line (James 1:12)?  
The word crown comes from the Greek word stephanos and is associated with the Greek athletic games. The winners of these games would be crowned with wreaths of leaves. This crown had no cash value, but it guaranteed the athlete praise and honor in his community.³
What's interesting to note is that the crown of thorns Jesus wore to His death was also called a stephanos. The soldiers placed the wreath upon His head out of mockery, but God's purpose was to show the world that His Son came to claim the victory over sin and death.
I doubt this crown of life mentioned in James 1:12 is woven with leaves, but it is entwined with God's love and has perseverance written all over it. We know little about heaven and what awaits us, but God has been gracious enough to give us glimpses. I cannot tell you exactly what this crown is, but James tells us it is the ultimate reward for persevering in the trial. Therefore, as you set your sights upon the finish line, my friend, focus on the reward. It will be grand, that's for sure. 
According to 2 Peter 1:5-7, what are the seven qualities we need to add to our faith? 
Continue reading in this passage. Based on verses 8-9, why are these qualities so vital? 
Did you see perseverance tucked in the middle of the previous verses? This quality is essential for our effectiveness in the Lord's work. I remember a day not long ago when I was being mistreated at work. Knowing I didn't deserve it, I grumbled and complained to several co-workers. Later that day, I began to write today's Bible lesson. When God is involved in something, it's never a coincidence. God perfectly planned this lesson on perseverance on that difficult day. As I began to write, conviction hit me over the head. The Lord reminded me I was not persevering under the trial. Therefore, my testimony was tainted. Instead of being a witness for the Lord, I was expounding contempt.     
The next morning I woke up with a different mindset. I asked God to help me persevere. While the situation at work had not changed, I was different. I focused on Jesus. You can do the same, too.  
Ask God to help you to persevere.
Friend, please take in these words. And then pass them along.
Have a blessed day…