Our study today comes from Exodus 33:12-23. Please read this passage of Scripture.
Fill in the blank, according to Exodus 33:14:
"The LORD replied, 'My Presence will go with you, and I will give you ___________.'"
Summarize in your own words Psalm 55:1-8.
Can you recall a time in your life this description related to you? Explain.
Perhaps you're wondering why today's lesson is called Going to Sleep, especially as we talk about our desert time. Well, think about bedtime for a moment. I don't know about you, but when the lights are turned out, and my head hits the pillow, I long to sleep soundly until the alarm clock pierces the morning's light. Certainly, a restful night's sleep will serve at least two important purposes the following day: productiveness and a joyful spirit.
While we desire a sound sleep every night, there are certainly times when we lay in bed watching the clock tick away. Pinpointing why this happens is often difficult. Sometimes we climb into bed with a burdened heart. Nighttime, it seems, is often when anxiety, worry, fear, and troubles rise to the surface. It is on these nights when our minds quickly become overloaded with unpleasant and sometimes, terrifying thoughts. When this happens, sleep evades us.
Can you relate?
Friend, God can provide rest for our weary and tired bodies. Whether it is physical exhaustion, emotional turmoil, or spiritual apathy, God can provide a way of escape. Whether we need to find shelter in the storm, or long to find a place to sit and rest from our travels, He can secure us with perfect rest.
Go back to Exodus 33:14. What is this rest depended on?
Stay here in this chapter. According to verse 15, what is Moses' fear? Choose the one that applies.
The pursuit of the enemy                              The lack of God's presence
That he might die                                           That he won't be a good leader 
Oh, how this speaks to my heart. You and I would walk in more peace and joy, and we would be more fruitful servants for God, if we would make our daily prayer, "Lord, please let your presence go with me." Like Moses, I don't want to go anywhere without God's presence; whether it's walking out my front door, driving to the store, or visiting a neighbor. Wherever I go, I want God to go with me. Why? Because if He is not with me, how can others see Jesus in me? How can I make a difference for God's Kingdom? How can I love others through my words and actions? How can I glorify my Lord and Savior? How can I be set free from the turmoil that envelops me? And how can I find true and complete rest? There is no other way. We can search and search our whole life for rest and never find it. It can only be administered when God lavishly pours out His presence upon us.
Say this prayer out loud with me:
"Lord, please let your presence go with me every day, all day.  In Jesus Name, Amen!"
How do you know God is with you?
The following Scriptures clearly point out the difference between rest and restlessness. Look up each reference and write a word or phrase for each title.
         Rest                                                                        Restlessness

1 Chronicles 16:8-9:                                                 Job 17:1, 7:
Psalm 36:7:                                                                 Psalm 38:6-10:
Psalm 57:7:                                                                 Psalm 42:3:
Psalm 62:1-2:                                                             Psalm 51:3-4:
Psalm 66:1:                                                                 Lamentations 3:17-18:
Acts 16:25:                                                                   Matthew 26:75:
Until we experience restlessness, we cannot fully appreciate rest. Each of these passages reflects either a burdened heart or a joyful heart. I remember a time not long ago, I was overwhelmed with restlessness. A struggle in my spirit robbed me of all joy and peace. I was broken. Grief had taken up residence. I had forgotten what prosperity felt like. For three days, I bitterly wept. My angst was not just focused on certain people, but also focused on God. Most nights, I barely slept.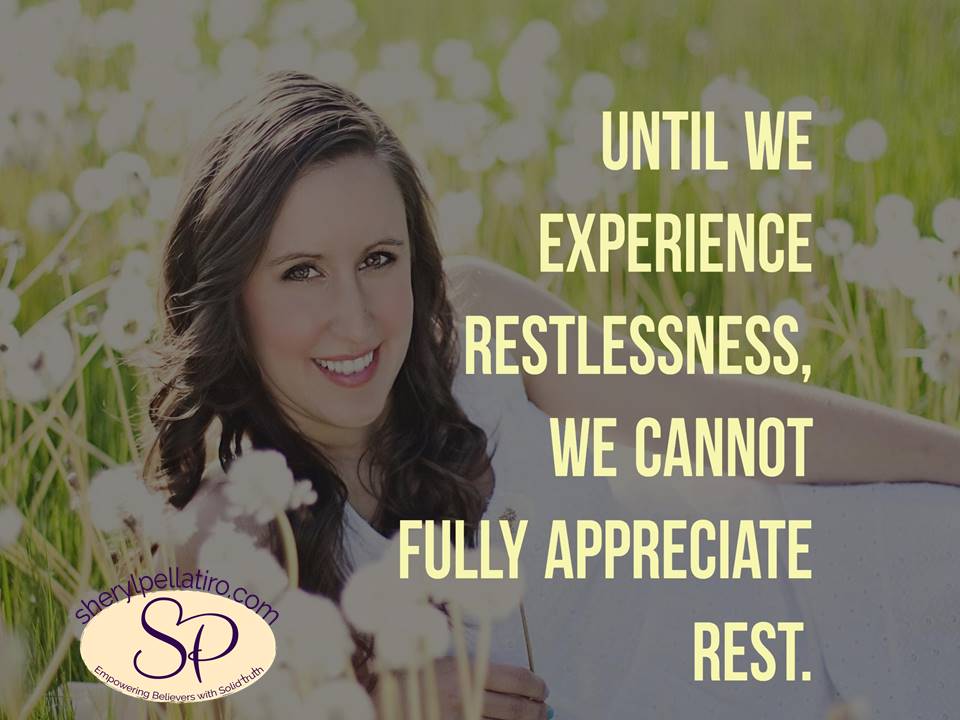 As despair washed over me, I finally surrendered every hurt, every tear to God. Lying on the ground, I entered into God's throne room, the place where true rest exists, and I presented my entire grief-stricken heart to Him. I laid it all before His nail-scarred feet. It was at this place where God finally restored rest. For the first time in several days, I smiled, sang praises, and worshiped my Almighty King. Everlasting hope replaced temporary grief. God intervened and brought me back from the depths of despair.
Look up the following verses and explain how rest is attained.
Psalm 16:8-9:
Psalm 43:2-4:
Psalm 62:5:
Psalm 91:1:
Matthew 11:28-29:
You see, the only place to find true perfect rest is in the presence of the Lord. Today we learned how some of God's most faithful servants found rest in the midst of their trials: by coming into the presence of God. We would be wise to follow their examples. Invite Him to walk with you every day. Don't open the front door of your house without first allowing His presence to fill you. When you are troubled, scared, anxious, or feeling hopeless; just step over the threshold into His sanctuary and sit at His feet. Being the loving God He is, I'm sure He will pick you up and place you on His lap, wrapping His strong arms around you. It is only then you will be fully rested.
Take a moment to reflect on the words the prophet Jeremiah spoke:
"Stand at the crossroads and look; ask for the ancient paths, ask where the good way is, and walk in it, and you will find rest for your souls."  Jeremiah 6:16
I hope today's lesson gave you the encouragement you needed. Make sure to rest in Jesus and please share this message with others who desperately need rest.
Blessings,