The desert can be a horribly dark and painful place. In the midst of that darkness, it is sometimes difficult to recognize God's presence. Our burdens can be so overwhelming we feel alone and defenseless. The enemy loves nothing more than to whisper in our ears lies, especially when we're in the midst of trials. Lies that say, "No one cares. No one understands." When we listen and believe those words, we are propelled to an even deeper place. There is good news, though. God is BIGGER than any circumstance we face. And to catch just a glimpse of His greatness, all we have to do is study His Name.
For the next several posts, we will study one particular name of God: Jehovah. Jehovah means, "The One who is always present." 
Our study today comes from Exodus 33:7-23. Please read this passage of Scripture.
According to Exodus 33:14, what is God's promise to Moses?
Moses was far from perfect. This passage alone reveals his deep fears and troubling insecurities. As Moses confronted God about the call on his life, he discovered an undeniable promise: God's presence would go with him everywhere. Imagine the comfort Moses finally enjoyed as he basked in God's Word.  Knowing the "rest of the story," we might add that God would be present when hunger and thirst ravaged their bodies. God would be present when the people fell to the ground in utter exhaustion after a long journey. God would be present when the horrible stench of death permeated the camp. God would be present when their enemies came bursting forth and declared war. God would be present when all hope for the future was lost. God would be present when despair, discouragement, and frustration penetrated each and every heart. And God would also be present when His glory was displayed from the mountaintop.
Consequently, when God said, "My presence will go with you," He meant all the time!  God never left the people while they were stationed in the desert.
Where did this promise come from? Choose one. 
Moses                   Moses's imagination                Almighty God
A prophet             Aaron                                           A dream
The stark reality is that most believers cannot wrap their limited minds around the unlimited and matchless Word of God. Our humanness—and believing the enemy's lies—often prevent us from truly comprehending that God will do what He says He will do.  The first time we encounter Satan's deception is in Genesis 3:1 when he asked Eve, "Did God really say, 'You must not eat from any tree in the garden?'" Did you know this great deceiver is still whispering that same lie today? Can you picture him right now placing his hand to your ear and, in a hushed tone, muttering "You really believe that God is with you? He's not with you. He's abandoned you."       
I have fallen for that lie more than once. I'm sure you have, too. Whether you're feeling the sting of loneliness, or reveling in the blessings of God, it is imperative that we uncover an impenetrable truth about a specific character of God: His faithfulness. I believe our study today on God's faithfulness will help us to feel God's presence no matter what we are facing. 
Look up the following passages and write a word or phrase associated with God's faithfulness.     
Psalm 36:5:
Psalm 86:15:
Psalm 89:2:
Psalm 89:8:
Psalm 91:4:
Psalm 100:5:
Psalm 117:2:
Lamentations 3:23:
1 Corinthians 10:13:
1 Thessalonians 5:24:
Now, paraphrase your understanding of God's faithfulness.
Webster's Dictionary defines faithful this way: "firm in adherence to promises; loyal, worthy of confidence and belief; accurate."² 
Briefly describe what this definition means to you in relation to the promise given, "My presence will go with you" (Exodus 33:14).  
Read Psalm 145:16 and Hebrews 10:23. 
There it is. The Bible says it. God is faithful to all His promises. From the list below, write down any promises you need to hang onto right now.
Hope                           Protection                               Love                            Joy
God's Presence       Eternal Life                             Power                         Strength
Help                            God's blessings                      Direction                   Peace
Comfort                     Deliverance                            Inheritance               Wisdom 
God sees and understands your pain. He knows, right now, the struggles boggling your mind. When His beloved ones wander deeper into the desert, He longs for each one to find comfort. This comfort comes in the realm of promises He lavishly poured out for us. And He is faithful to fulfill each and every one of them. He cannot go back on His Word. What peace I find under the umbrella of such convincing promises. Today, I am encouraged just knowing that God's presence is with me at all times.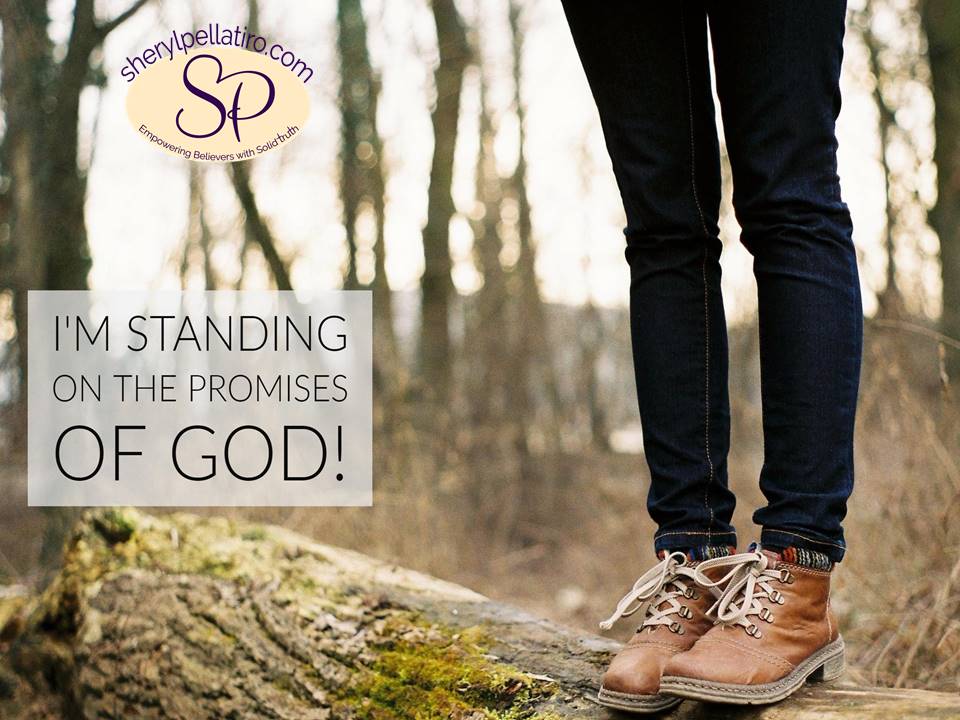 Like you, I have encountered ups and downs along my spiritual journey. I can recall several specific times, during some of the darkest moments, when God gently reminded me of His presence. One day, several years ago, feelings of despair washed over my body until I was in severe anguish. Unable to stand the torment, I prostrated myself and cried out to God. I told Him I didn't think I could go on. Later that day, a postcard arrived in the mail addressed to me, but the return address had been ripped off. As I read the note on the card, the anointed words pierced my heart. Chills inched up and down my body. Instantly, I felt an overwhelming peace deep within my soul. Still lying on the floor, I wept. I knew that God was the one who delivered that tattered card to my door the moment I needed it. Another time, while deeply troubled, God led me to a passage in Scripture detailing Jesus' suffering. Just a glimpse into the agonizing grief Jesus felt offered me hope as I knew I wasn't alone—Jesus could feel what I was feeling.  
Remember Beloved, God is always present, always there!
Do you need to feel His presence right now? Write down what's on your heart, and then call out God's name. Ask Him to reveal Himself to you. Then sit back and look in every direction. I'm sure your eyes will be opened and you will see that He is with you right now, no matter what you're going through. 
Turn to Psalm 139:7-10. Briefly summarize these verses in your own words.
Here's one final exercise. Write down the words GOD'S PRESENCE in large, bold letters. As you envision God's presence with you all the time, record areas you need to feel His presence the most.             
Worshiping God on Sunday morning through song and message is a glorious place to feel God's presence. After each worship service, I know I have been in the presence of the Lord. Sometimes I wish I could enjoy moments like that 24/7. During desert times, we may need to look a little harder to see that God is with us.
Write the following verse on a note card and meditate on it throughout the week as we tackle the topic of God's presence. With Isaiah's words before us, I'm certain we will sense God's presence today, and we will understand that He is the One who helps us and guides us through every tough moment we encounter.  
"When you pass through the waters, I will be with you; and when you pass through   the rivers, they will not sweep over you. When you walk through the fire, you will   not be burned; the flames will not set you ablaze."
Isaiah 43:2
Did today's message minister to your heart? Please share your comments and pass this onto someone else.
Have a blessed day,