Okay, I'm really outside my comfort zone on this blog post. But the Holy Spirit has been nudging my spirit to write this.
I'm not here to debate! I'm not a political expert. And I'm not going to tell you who to vote for or if you should vote.
That's between you and God. Ultimately, we are accountable for our own actions.
This post is not really about the upcoming election.
It's about truth.
For some reason, this particular voting season has the people of God standing on opposite sides of the fence throwing accusations in each others' faces.
I have never seen the church so divided as it is right now. Divided right down the middle!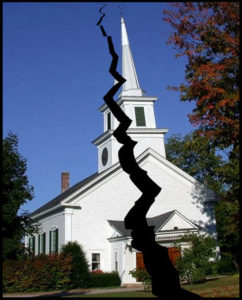 Christians are judging other Christians. Believers are arguing with each other and using Social Media to voice their opposing opinions.
Some well-known and highly respected voices in the church have lost their credibility simply because they sided with one particular candidate.
To be honest, many are afraid to talk political jargon because of fear of backlash.
When the election is over and a new president resides in the White House, some will have lost friends. Others, their reputation. Family members may never speak to their relatives again.
And the church will be broken. The corporate church.  It's been in need of healing for some time, but this division is opening those wounds more.
Anger is infiltrating the pews.
That's what division does.
Should it be this way? NO! Absolutely NOT!
This isn't the first time the church has been divided. In fact, we can trace division all the way back to the early church. The Apostle Paul addressed this very serious subject with the church at Corinth.
He writes: "I appeal to you, dear brothers and sisters, by the authority of our Lord Jesus Christ, to live in harmony with each other. Let there be no divisions in the church" (1 Corinthians 1:10).
And Paul goes on to say that he heard about the quarrels (1 Corinthians 1:11).
We may ask why division is so detrimental to the church? I believe it's recorded in Paul's letter: "For Christ didn't send me to baptize, but to preach the Good News – and not with clever speech, for fear that the cross of Christ would lose its power" (1 Corinthians 1:17).
The cross is power. Power to set a prisoner free. Power to bring salvation to a lost soul. Power to transform a life. Power to reveal truth.
But division can empty the cross of its power. Where division exists is every form of chaos. Truth is buried. And the blood-soaked beams cannot draw lost people to Christ and cannot bring freedom.
Division is darkness.
People cannot be drawn to Christ when there's division. Because division only spews anger and hatred. 
So, here's what I would like to bring before you (great reminders)…
1. Every position of authority has been appointed by God!
Ponder these words: "Everyone must submit to governing authorities. For all authority comes from God, and those in positions of authority have been placed there by God" (Romans 13:1). 
That's right! Whoever gets elected is God's choice. We may not like His choice, but He controls the office.
And we may ask ourselves why He doesn't put a more godly leader in office. Someone who exemplifies the morals our country was founded on. Perhaps it's because His favor no longer rests on this country.
Throughout Scripture we see the consequences of not following God. When the nation rebelled, God removed His favor and protection. This is a recurring theme throughout the Bible.
So, what makes our country any different? Remember that God is the same yesterday, today and forever (Hebrews 13:8). 
In 1963, prayer was taken out of the public schools and morality has been on a decline since. The leaders have successfully banished God. And the American people continue to vote for ungodliness over uprightness. 
After years of pushing God out, He finally lifted His hands and left us to our own devices. 
As Christians, we should be shaking our heads and wondering what we can do to bring our country under God's protection and favor again.
Here's what God's Word says:
Stop Arguing!
Come Together!
Pray!
Paul says that "we need to be of one mind, united in thought and purpose" (1 Corinthians 1:11). 
Here's a thought: rather than discussing differing viewpoints, come together and pray. Pray that believers would be led by the Holy Spirit on election day, that God's light would shine in the darkness, that the enemy would be bound, and that God would restore our great nation to wholeness and uprightness. 
Pray for the leaders of your church. Pray for the government officials. Pray for the office of president. And pray that Jehovah Rapha, the ultimate HEALER, would heal our land. 
Let me remind you of the great words we've heard many times…
"Then if my people who are called by my name will humble themselves and pray and seek my face and turn from their wicked ways, I will hear from heaven and will forgive their sins and restore their land" (2 Chronicles 7:14). 
My heart is stirred into action. How about yours?
Since God is ultimately in charge of our country, there is no need to worry or get angry. He will honor those who follow His ways, though. 
So, let's come together, pray, and seek His face. This is when we will see His favor displayed.
Thank you for joining me and reading what God puts on my heart. You are a blessing.
Blessings,