What is enough for me?
This is a question I've been asking myself lately.
When my kids were little I loved to read them the book, "Are You My Mother?" It's a cute story about a baby bird who went in search of his mother. Since he didn't know what she looked like, he searched all over. He asked a hen, a kitten, a dog, and a cow, "Are you my mother?" After some time – and when the baby bird was back in the nest – the mother bird arrived home. Finally the baby bird was happy and content because he had found his mother.
The moral of the story is that the baby bird felt incomplete until he found his mother, the one who gave him birth. Because he belonged to her.
Sometimes I think we are just like that baby bird. We are always on the hunt for something to fill us up. Something to make us complete. Why? Because that's the way God created us. 
In our incompleteness, we may be looking for outside sources to fill the empty places in our hearts. And trust me, there are so many crevices that can easily feel empty.
We often live as though…
Our faith is enough…
   Our family is enough…
      Our education is enough…
         Our spouse is enough…
            Our career is enough…
               Our hobby is enough…
                  Our ministry is enough…
                     Our friend is enough…
And the list goes on and on… We think that one or more of these things will fill us up, heal the brokenness, fix the problems, pick up the mess, smooth out the wrinkles, scrape off the mud, and give us peace of mind.
We might not say it out loud (because we're believers and we know better), but sometimes we live as though these things are enough for us.
Until they break!
Or they fail!
Or they just flat out don't work!
So, let me ask you again… What is enough for you?
Let me remind you of the One who came and purchased your salvation. He bought you with a steep price (1 Corinthians 6:20). Paul says that "[we] belong to Christ" (1 Corinthians 3:23). 
Listen to what Jesus said…
I am the True Vine (John 15:1)
I am the Bread of Life (John 6:35)
I am the Good Shepherd (John 10:11)
I am the Light of the world (John 8:12)
I am Way, the Truth, and the Life (John 14:6)
Jesus also said, "If anyone would come after me, he must deny himself and take up his cross and follow me" (Matthew 16:24).
Here's the thing. Jesus didn't pick you for a haphazard relationship with Him. He wants your absolute all. He wants full devotion, rather than halfhearted indifference. He's looking for followers, not fans.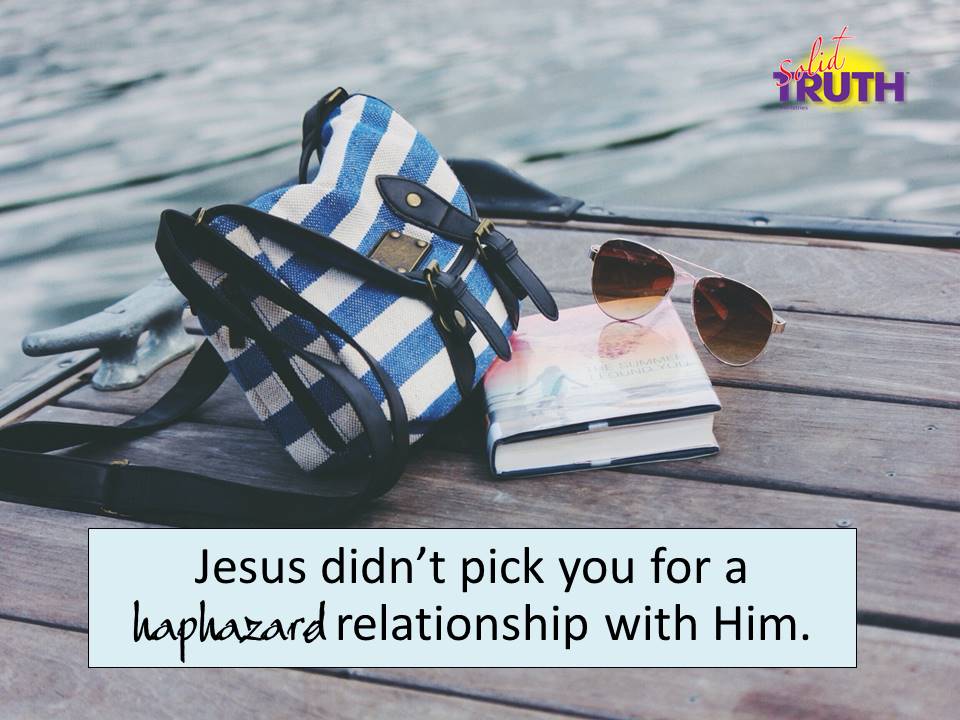 We find the early church in the Book of Acts rockin' for Jesus. I mean, Jesus took center stage in everything. I think we need to go back and reread the beginning and live the way they did. Because the people were flaming torches, the Holy Spirit was moving with GREAT force, the Church was growing and thriving, and Jesus was so glorified and exalted. Amazing stuff, huh? 
When Jesus becomes center, the glory of God pours down from heaven.
Now here's something we need to know… Like in the early days of the Church, Jesus is still pursuing His people with a passion.
Are you living for Him only? Are you running hard after Him? Is He at the center of your life, or is He an end-note you've tacked on? Do you run to Him everyday for everything? Or do you go to Him only when you need something? 
IS JESUS ENOUGH FOR YOU?
Because until He is, nothing will ever be enough.
I will try and make Him enough. Will you join me?
Blessings,