Like me, you may have clung to these words more than once: "Be strong and very courageous. Be careful to obey all the instructions Moses gave you. Do not deviate from them, turning either to the right or to the left. Then you will be successful in everything you do. Study this Book of Instruction continually. Meditate on it day and night so you will be sure to obey everything written in it" (Joshua 1:7-8).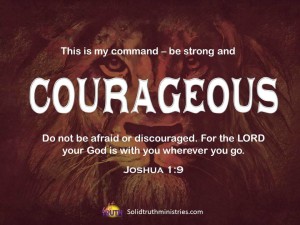 There is not better advice for believers than this. 
Imagine being Joshua, called to step into the shoes of Moses – your predecessor – and chosen to lead God's people into their awaited land.
There is no doubt that this mighty man of God followed this advice to a fault. How do we know this? Because it tells us that "The people of Israel served the LORD throughout the lifetime of Joshua" (Joshua 24:31).
I want to be that kind of leader. Don't you? I long to lead God's people right into truth. 
I am very excited that we get the opportunity to study this amazing man of God.
Here are a few things about Joshua. Joshua was a…
Leader

Warrior

Favored man of God

Conqueror

Courageous soldier

Faithful servant
And here's another interesting bit: The name Joshua is the Hebrew form of Jesus and means, "Yahweh is salvation." So, I'm sure we will begin to understand how Joshua was a foreshadow of the One who would come to save the world.
We begin our study the first week in January. I will be sending more information as time gets closer.
Please watch the video, share with your friends, and invite them to join our blog.
It's going to be an awesome study.
Please tell us if you're excited.
Love and blessings,