Down through the centuries, Thomas (one of Jesus' disciples) has been referred to as Doubting Thomas. I'm not sure I would like that name.
I'd much prefer Trusting Sheryl. Or Believing Sheryl.
Let's briefly take a look at this "Thomas" story because I think all of us can relate.
We will look into John's gospel account of the Resurrection. You may want to read John 20:19-29 for the background. 
For three days, darkness loomed over the town of Jerusalem as Jesus had been horribly beaten and then hung on a cross to die.  
The hearts of His followers grieved. Peter was hinging on despondency because the last thing he remembered is denying his Lord and Savior. 
The disciples hid behind locked doors for fear of the Jews.
But Sunday morning, everything changed. An earthquake shook the ground, the sun burst out the of clouds, and Jesus came back to life. 
Mary Magdalene was the first one to see the risen Jesus. That same night, Jesus appeared to the disciples. They knew! They believed! But one of the disciples wasn't present. We don't know where Thomas was, but when he finally showed up later, the disciples told him that they had seen the Lord.
Thomas replied, "I won't believe it unless I see the nail wounds in his hands, put my fingers into them, and place my hand into the wound in his side" (John 20:25). 
Really Thomas? All the disciples are telling you they saw the Lord and you won't believe it? How can that be? How can you NOT believe the eyewitnesses – not one, but ten. 
As I pondered this scenario, I thought about how we are often the same as Thomas. Thomas had every reason to believe. And we do, too. 
We have the whole counsel of God's Word at our disposal. We have eyewitness accounts. And we have the Holy Spirit living inside us testifying to the truth.
But, like you, I still doubt sometimes. In thinking this over, I asked myself these questions…
Do I really believe that God is BIGGER than my situation?
Do I believe that God can handle my situation?
Do I trust God today, in the midst of my struggles?
I mean, He tells me in His Word that He is bigger, that He can handle my situation, and that He is with me in the midst of my struggles. He tells me that He has everything under control and that He loves me and takes care of me. 
Then I thought of a situation I'm going through right now. I had to ask: "Am I complaining? Getting mad? Or worrying?" 
Because how I'm reacting in the middle of it shows me if I'm trusting or doubting God. 
Eight days after Jesus appeared to the disciples, He came again. This time Thomas was present.
He offered Thomas the opportunity to touch His wounds. Finally Thomas believes and says, "My Lord and my God!"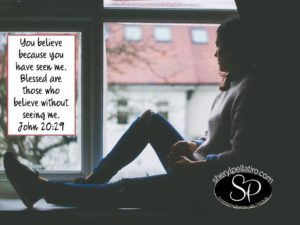 Jesus' response to Thomas is remarkable: "You believe because you have seen me. Blessed are those who believe without seeing me" (John 20:29). 
So I ask you? Are you still skeptical? Because Jesus doesn't honor skepticism. He blesses those who truly believe. 
Belief that He is BIGGER.
Belief that He will work everything out for His glory.
Belief that He is in control of your situation.
So, I guess we need to evaluate our responses. How are we responding in the midst of it? Are we laying it at the foot of the cross and leaving it there? Are we walking in fullness of joy? Are we moving forward and not letting the situation consume us? 
Let's not be like Thomas. Let's trust and believe. Let's walk in faith. 
Will you do it? Will you rise above your doubt, your skepticism, and let Jesus handle it?
Oh, how happy that will make Him and how blessed you will be.
Please pass this onto someone you think may need it.
Love and blessings,