My dad has been in heaven for almost five years. I miss him terribly. I miss hearing his voice, seeing the twinkle in his eye when he thought something was cute, talking about the end-days (he loved discussing the Rapture), and just sitting next to him as he reclined in his "dad" chair.
My dad was sad when my husband and I moved four hours away. But then you should have seen the smile on his face when we returned three years later and moved just a mile from him and my mom. Every time he would come to our house, he would walk out the door to go home and say, "What a shame we have such a looooonng drive." (Smile)
My dad…
What do you call the patriarch or your family? Father? Dad? Papa? Daddy?
What are your thoughts when you hear the title Father? Someone stern? Distant? Not approachable? Impersonal?
Perhaps you have the opposite reaction. And that's okay. But I think that we sometimes associate those things with our heavenly Father. 
However, Jesus gives us a whole different picture of our Father. In fact, when Jesus was praying in the garden – just hours before His arrest – He called His Father Abba (Mark 14:36). 
In the New Testament, Abba was a common way young Jewish children addressed their fathers. It conveyed a sense of intimacy and familiarity. There are several translations to this word. Unger's Bible Dictionary translates Abba as "Papa." Abba is actually the Aramaic word for "dear father." Some would translate Abba as Daddy to convey the close, personal meaning of the word. Therefore, we can be certain that when a person in the Bible used the term Abba, they were addressing someone they had a warm, affectionate relationship with.
As Jesus poured out His heart to His Father in the garden that dark night, I'm wondering if He needed a Daddy then, rather than just a Father. As He cried out Abba Father, perhaps it was then He felt the strong arms of His Heavenly Father wrap around Him. Maybe He just needed to climb up on His Abba's lap and weep. But I'm convinced that His prayers soared beyond that garden, beyond the walls of Jerusalem, and beyond the grave. His prayers were offered up on behalf of the entire world. He prayed for you and me while seated on His Father's lap. I'm positive that our Lord just needed to have His Daddy hold Him and reassure Him it would be okay. He would be there beside Him, giving Him the strength to endure the next hours ahead.
I grew up in a place where not too many people called their father daddy. When I do hear it though, I sense a loving relationship between this father and child. My dad may have thought it was a little strange for one of his daughters to call him daddy. But God doesn't think it's strange at all. He wants us to know that we can call Him Abba at any time.
Sometimes we approach God like we would our President—polished and professional. Perhaps we should try approaching God like a child would: unpretentious. I'm certain our Heavenly Father—our Daddy—would prefer that way.
What's going on right now in your life? Are your circumstances pressing in hard? Are you scared for the future? Is there a void that someone once special filled? Are you worried? Is there division? 
Are you lonely? Empty? Withdrawn? Struggling to stay afloat? 
Disillusioned? Depressed? Disappointed? Depleted? 
No doubt life is hard and trials are inevitable. But God has given us a beautiful place of refuge.
His lap!
Your Abba Father – your DADDY – is wooing you to come sit for awhile. Climb up in His lap. Put your ear against His chest and listen for His heartbeat. It beats for YOU. 
Let Him put His arms around you and hold you tight. I guarantee you will feel so much better. 
I hope this encourages you and that you will encourage someone else with it, too.
One last thing…
If you are immersed in difficult things right now, I do have a Bible study that will help you immensely. It's called Wilderness Wanderings and I wrote it during a difficult time in my life. I know you will love it. 
You can find more information about this study and all the other studies on our website.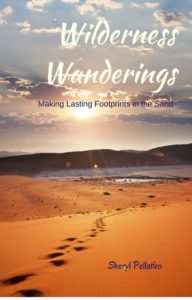 Have a blessed day…