One of the greatest blessings God offers us as part of His forever family are wonderful friendships with other believers.
A few weeks ago, I had knee-replacement surgery. After I got home from the hospital, there was a stream of people in and out bringing food, doing things for me (since my husband would be out of town for a couple days), sitting with me, calling me daily, and offering beautiful fellowship.
Tears well up in my eyes thinking about these special friends – treasured ones – who came to my rescue with love and encouragement. I hope you have friends like that in your life. If you don't, make sure you find a vibrant church – a church where the people care about each other and the Word of God is preached. This is the best place to find true friendships.
Throughout life, I've had many friends. Some closer than others. These friends offer me companionship, encouragement, support, and love. Oh, how I treasure these precious ones in my life.
But here's the thing: no matter how many great friends we have in our inner-circle, there is only ONE friend that stands heads taller than all of them in the friendship department.
His name is JESUS.
This is what your BEST friend says to you: "There is no greater love than to lay down one's life for one's friends" (John 15:13). 
Jesus went to the cross in our place. He lovingly died for us. And He calls us His friends (John 15:15).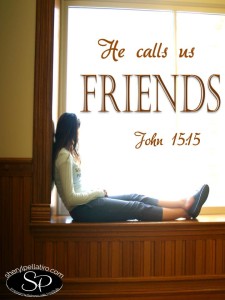 Amazing, huh? Are we deserving of such a friendship? Absolutely NOT! But then again, Jesus lives by His own standards.
How thankful I am. How about you?
As with any relationship, though, we need to embrace this friendship with Jesus to gain the most from it. How do you embrace other friendships? You nurture them! You pour yourself into them.
Well, the same is true of our friendship with Jesus. We need to nurture it. Spend time with Jesus and pour ourselves into this relationship.
Now, we might ask ourselves why we need Jesus' friendship above all others. What benefits does He have to offer us? Well, here are a few…
Jesus is faithful! He is trustworthy. He is always there, in the good times and the bad times. I've been deleted off Facebook several times. But if Jesus were my friend on Facebook, He would never delete me, even when I mess up.
I've had friends who are unreliable. I just couldn't count on them. They seemed to always be late, cancelling things, and not following through with what they've promised. These friendships are hard to hold onto. Not to mention, how frustrating it is to be friends with people like this.
We read in 2 Thessalonians 3:3: "But the Lord is faithful; he will strengthen you and guard you from the evil one."
In other words, we can count on Him. He is always available for a hug, a comforting word, and a healing touch.
He pursues us even when we aren't pursuing Him.
Now, that's what I call a faithful friend. And a friend I will put at the top of my BFF list.
Jesus comes to us in our brokenness!
We read many stories in the gospels where Jesus sought out the broken. As Jesus and the disciples were traveling from Judea to Galilee in John 4, we read that Jesus "had to go through Samaria." Usually the Jewish people avoided Samaria because of the tension between the Samaritans and the Jews.
So, why did Jesus go out of His way to go into Samaria? Because there was a broken woman He needed to meet with. She came to the well that day all alone to draw water. By all accounts, she didn't have many friends. She may have looked fine on the outside, but inside she was broken.
Before the hour ends, Jesus offers her a drink of living water. This water would heal the broken pieces of her heart. She would leave that place a renewed woman. A woman with purpose and passion. A woman alive in Christ.
Jesus sees your brokenness, too. He is the only one who can set you free and He is a loyal friend. His loyalty is far grander than any other we have ever known. He promises to pick up those broken pieces and put them back together again.
Now, that's what I call a loyal friend.
Jesus changes our despair to joy!
Mary Magdalene was by Jesus side from the time He cast out seven demons from her body. Her love for her Savior was unsurpassed.
Imagine the deep heartache she felt when Jesus died. Like most of His followers, she probably thought that the light would never shine again. For three long days, she was filled with despair and despondency.
Then in one moment, everything changed for Mary. John records what happened:
Mary was standing outside the tomb crying, and as she wept, she stooped and looked in… She turned to leave and saw someone standing there. It was Jesus, but she didn't recognize him. "Dear woman, why are you crying?" Jesus asked her. "Who are you looking for?" She thought he was the gardener, "Sir," she said, "if you have taken him away, tell me where you have put him, and I will go and get him." "Mary!" Jesus said. She turned to him and cried out, "Rabboni!" (which is Hebrew for "Teacher").
John 20:11, 14-16
In just a matter of seconds, Mary's despair turned to joy. I want you to know that no one on this earth can do that for you. Because joy is only found in Christ.
So, let's listen for Him to speak. Let's go to Him with all of our despair and ask Him to transform our hearts.
Jesus really is our very best friend. Here's the challenge for each of us: Let's pursue this friendship above all others. Let's make Jesus our very best BFF. We won't be disappointed.
Love and blessings,

---
Upcoming Bible study – January, 2016
Joshua: Heaven's Mighty Warrior