Life never seems to go the way we thought or imagined. When I look back on those early days – when I was young, in college, and dreamed of a "fairy tale" life – I'm amazed at how different things turned out. I crossed a milestone this year – so long 50's / hello 60's. How did I ever get to this place so fast?
I was talking to Jesus about some of the unforeseeable things I'm still having difficulty with. Praying for loved ones. And while I wish I could repeat certain seasons in my life, I know that's not possible. But God spoke to me about trusting and not worrying. One day Jesus asked a profound question: "Who of you by worrying can add a single hour to his life" (Matthew 6:27)?
If Jesus were from the south, He may have said it this way: Worrying aint done nobody any good.
Did you know that if you're not trusting, then you're worrying? And according to Jesus, worrying doesn't do anything for us. It just makes us more stressed, more distracted, more grouchy, and more vulnerable to the enemy.
Comparing ourselves with others, coveting what someone else has, and staying frustrated that things didn't turn out the way we wanted only leads to worry.
So this morning I decided to do a little biblical research on trusting since this is what I need to strive for. Like you, I'm always a work in progress. I need this message as much as you do. Hang in there with me because I believe something will grab your heart.
I think trusting God is a no-brainer when we focus on His promises. Before you continue reading, write down what's worrying you right now. And then ponder each biblical promise listed in relation to your worry…
God is with you!
As Joshua was stepping into some really big shoes – Moses was a giant of a leader – God said to Joshua: "Do not be terrified; do not be discouraged, for the LORD your God is with you wherever you go" (Joshua 1:9).  Wow! Good word!
God is with you, too, friend.
God has been with you all along, He is with you right now, and He promises to be with you in your future – whatever that may be. We cannot change what's happened, but we can change how we respond. We can trust and not worry.
God will never forsake you!
The psalmist writes: "Those who know your name will trust in you, for you, LORD, have never forsaken those who seek you" (Psalm 9:10). The Hebrew word for forsaken means "to abandon, or to give up on." What an awesome promise! No matter what you've done, where you've been, or what you're doing, God will NEVER give up on you.
God knows your dreams, sees your pain, and hears your cry. Something tells me that when Nick Vujicic – the man born without arms and legs – was a little boy, he thought God had forsaken him. But that is just not true. In fact, Nick plays golf, surfs, travels around the world, gives motivational speeches, and recently he became a father for the second time.
Imagine the story God has written for you. If you trust Him rather than worry, He will be sure to show you that He has NOT given up on you. God's plan for your life here is not finished – not until you breathe your last.
God's name is REALLY BIG!
David writes, "Some trust in chariots and some in horses, but we trust in the name of the LORD our God" (Psalm 20:7). In her book Lord, I want to Know You, Kay Arthur lists several of God's all-emcompassing names. Here are a few…
         Elohim – The Creator
         El Elyon – The God Most High
         El Roi – The God Who Sees
         El Shaddai – The All-Sufficient One
         Jehovah-Jireh – The Lord will Provide
         Jehovah-Rapha – The Lord Who Heals
         Jehovah-Shalom – The Lord is Peace
         Jehovah-Raah – The Lord is My Shepherd
         Jehovah-Shammah – The Lord is There
There is No doubt that God's name covers everything we are going through. Find a name of God that you need right now and cling to it. And begin to trust God.
God blesses those who trust!
We read in Psalm 84:12: "O LORD Almighty, blessed is the man who trusts in you." Why do you think God blesses those who are trusting in Him? Do you think it has to do with everything we know about God? We have God's Word at our disposal. We have the history of the Church. We've heard plenty of testimonies of the faithfulness of God. We see miracles every day. Yes! Miracles!
I was reminded of this just this morning. I've been praying for my son for years. Still I struggle to make sense of some of his choices, mostly his apathy for God. This morning I opened my Bible and found a piece of paper tucked between the pages. In 2009, I was concerned for him and asked several friends to pray for him. After getting my request, a dear friend sent me a response back via email with biblical promises for Matt. My heart was moved so much, I put it in my Bible. It's a little tattered, but here it is (p.s. just so you know, some of the handwritten stuff is just as confusing to me as it is to you…ha – I wrote those things a long time ago)…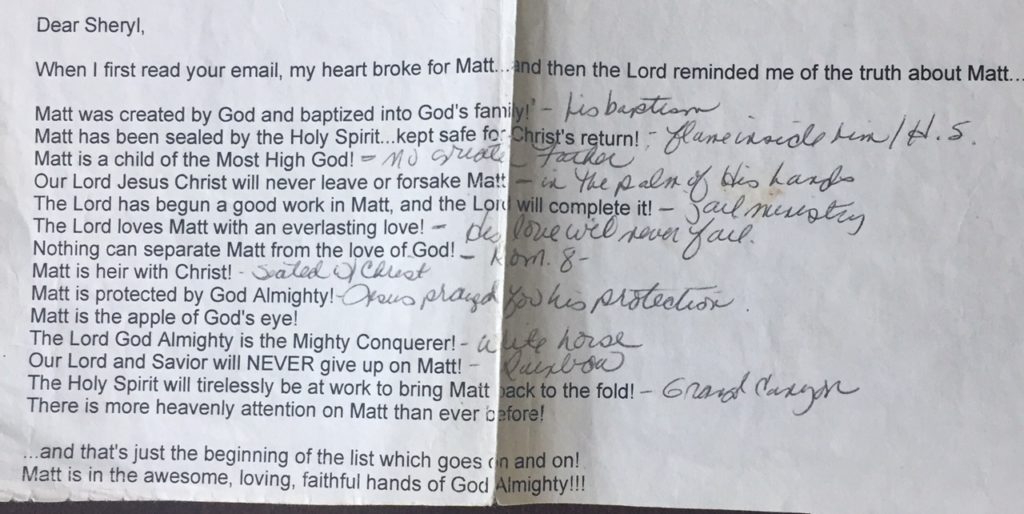 Today I was reminded that it's so much better to trust than to worry. 
I had more things to share, but I'll have to do it another blog post. I try not to make my posts too long. 
Worrying is not from God. It's from the enemy because he doesn't want us at peace. The best way to get rid of worry is to pour over God's Word and spend time in His presence every day. I know this sounds like a cliche, but we may not be spending as much time in God's Word and prayer as we should. Busyness captures all of us. Distractions turn our eyes away. And circumstances change like the wind.
But filling up our minds and hearts with truth is the best way to replace worry with trust.
Please write your comments below. How did this article help you? Tell us what you have been worrying about and what your game plan is to alleviate it. Or tell us how you have learned to trust God more. This topic hits so many of us. I hope you'll share your thoughts.
Blessings,