Nothing good comes from broken relationships. They hurt. And sometimes the wounds are so deep that we think we'll never recover. Or that the relationship is beyond repair.
You know what I mean, don't you? You may be facing a broken relationship right now. Perhaps in your marriage, with a friend, with a co-worker or a boss, with a family member, or in a ministry partnership.
I have certainly experienced more than one broken relationship myself. And, like you, I do not like it. It feels like a hot iron is searing my heart.
The Apostle Paul addressed this with the church at Corinth (1 Corinthians 1:10-17). The church was broken. Relationships destroyed. People were standing on opposite sides throwing accusations in each others' faces.
Paul said to the believers in this church: "I appeal to you, dear brothers and sisters, by the authority of our Lord Jesus Christ, to live in harmony with each other. Let there be no divisions in the church. Rather, be of one mind, united in thought and purpose" (1 Corinthians 1:10).
I believe any broken relationship can be traced back to disunity.
This is why Jesus prayed that "[we] may experience such perfect unity that the world will know that [God] sent [Jesus]" (John 17:23).
Of course for any relationship to be restored, it will take both parties to want it. And you may be the only one in the relationship right now that hopes for reconciliation. But it can start with you.
Here are a few things you can implement to begin the healing process:
1)  Pray for the other person continually!
Don't pray that God will strike them as our human nature often wants to do, especially if we've been hurt by their words or actions.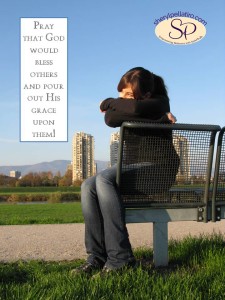 But pray that God would bless them and pour out His grace upon them.
I remember one broken friendship that hurt deeply. When I asked God what I could do, He told me to pray for this person. So, I did! I prayed the way God told me to pray. And after some time, this relationship was restored.
2) Forgive the other person!
Oh my goodness! This is so hard! But Paul said, "Make allowance for each other's faults, and forgive anyone who offends you" (Colossians 3:13).
Don't hold grudges. Don't keep bringing up the past. Put it before God and move on.
You will never be able to be free to love this person again if you don't ask God to help you forgive.
Forgiveness is one of the hardest things we will be called upon to do. But, it's also the best thing we can ever do.
Forgiveness sets the prisoner free.
3) Be of one mind!
It's okay to agree to disagree. You will never agree on everything. But don't let your disagreements become an issue. Because that leads to arguing.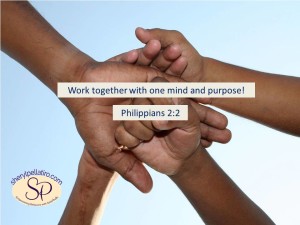 Paul told the Philippian believers that they needed to "work together with one mind and purpose" (Philippians 2:2).
4) Have the same attitude as Christ!
And what attitude is that? Taking the humble position of a slave (Philippians 2:7).
Put other's needs above yours. Serve them with a gracious attitude.
Jesus demonstrated this beautifully. He loved, served, and treated Judas just like the others, even though He knew that he would betray Him into the hands of those who would kill Him. He washed His feet the night of the last supper (John 13).
Humility is a characteristic that surely brings honor to God. There is not a better way to show Christ than by humbling yourself.
5) Control your tongue! 
Wow! It's our human nature to want to give someone a piece of our mind. And when our flesh acts out, it's never a good thing. Hurtful words come spilling out of our mouth – words that originated in our angry and wounded heart.
In speaking about the tongue, James says: "Sometimes it praises our Lord and Father, and sometimes it curses those who have been made in the image of God" (James 3:9). He goes on to say, "Surely, my brothers and sisters, this is not right" (James 3:10).
Practice saying only things that build up, and not tear down. 
Now hear me! Sometimes we can do all the right things and the relationship just isn't repairable. And that's okay. It's not your fault. Other times, it takes awhile. But people usually respond to kindness and love.
We are called to be lights for Jesus. Let's shine brightly by following Christ's ways and work at restoring those broken relationships. It's a win/win situation.
I trust that today's post ministered to your heart. Please write your comments below and share this with others.
Have a blessed week.