Today we continue with Joshua and his first battle. Please read again our passage Exodus 17:8-15.
We begin our lesson by observing two important scenarios taking place, and both of them are on opposite sides of the battlefield. One is on top of the hill and the second is in the valley. Let's begin by looking at the first one.
On top of the hill…
The raising of hands represents the power of prayer!
When were the Israelites winning the war (Exodus 17:11)?
Did Moses handle this task alone (Exodus 17:12)? Write down the details.
While Joshua and his army were on the battlefield fighting, Moses was on top of the mountain holding up the staff of God, which represents the almighty power of God.³ But, he was not alone. Aaron and Hur came to his rescue when his arms grew tired. They stood on either side of him and held up his hands until sunset.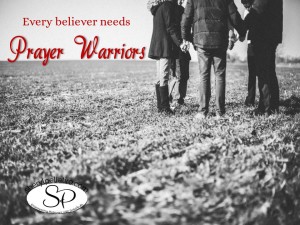 Friends, there is not a more glorious picture of prayer warriors than this one right here.
Read 2 Corinthians 1:8-11. Write down what Paul was going through and how believers helped him.
The work God has called me to do is challenging and outside my comfort zone. But here's the thing: I could never do it without prayer warriors.
Whenever I am called upon to speak, I think of this story. Then I gather my prayer warriors. I'm not afraid to ask for prayer. You shouldn't be either. We are supposed to come alongside and hold each other up in everything. 
If you're facing a difficulty, fearful of an outcome, worried for a loved one, struggling in some area, or overcome by unforeseen circumstances, ask for prayer. If the work God has put before you seems too great and you feel inadequate, ask for prayer. If the enemy is in hot pursuit of your mind and your flesh, make sure to ask for prayer.
Let God's faithful ones stand on each side of you and hold your hands up.
By allowing prayer warriors to come to your side, you are letting God fight for you and they are His instruments for a glorious outcome. Do I hear an Amen?
Now, let's observe the second scenario:
In the valley…
The sword represents the power of God's Word.
What is the Word of God called in Ephesians 6:17?
What does a sword represent to you?
If you said that a sword represents a "weapon" or a "tool" to use in combat, then we are on the same page. Only this weapon is not for an earthly fight. On the contrary!
What does the Apostle Paul say about this weapon in 2 Corinthians 10:4?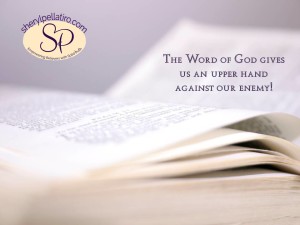 That's right! The Word of God gives us the upper hand against our enemy. But we must use it in that manner.
If you are facing off with the enemy right now—maybe in your thoughts, or your flesh, or your spirit—then you can hold God's Word out and command your enemy to leave. Satan cannot stand up against God's holy Word. He will flee every time.
With these divine weapons at our disposal, I guess it's safe to say that the only power Satan has over us is the power we let him have.
I utilize this powerful weapon almost daily. The devil is often hot on my tail and he may be hot on yours, too. He knows what buttons to push—the ones that will cause you to sin or to turn from God. And trust me; he has plenty of tricks up his sleeve.
But the Word of God will ward him off every time. Let's use it, my friends. Quote it out loud, while stomping on the ground commanding his removal. God's Word is God's Word! He spoke it into existence. It's powerful and it's ours to use.
How will you fight your battles today?
Now, let's go back to our story at hand in Exodus.
In the end, who won the war—God or the Israelites? Explain.
What happened after the war (Exodus 17:14-16)?
God wanted them to remember how the war was won. And then this story ends on a glorious note with Moses giving the glory to God. What a beautiful picture for us to breathe in.
It's important to note that both aspects—the raising up of the hands on the hill, and the sword in the valley—were both equally important in winning this battle. Prayer and the Word of God always work best together. Moses holding up the staff of God represents letting God fight for us. By utilizing prayer and God's Word, we are surely passing the baton on to God. And it's always His privilege to fight for us.
So my friends, gather your prayer warriors and grab your Bible as you face off with your greatest enemy. And then don't forget to always give God the glory. He deserves our praise, honor and worship.
What did God speak to you about today? Write down your thoughts.
Until next time,