He waited! He watched! He hoped! And he believed his son would come home one day.
Many had gathered on this day to hear Jesus speak. Something tells me they hadn't expected such a true-to-life story. Something also tells me that it pierced countless hearts.
Luke the physician records Jesus' words of the Prodigal Son in Luke 15:11-32.
It's a story of hope! A story of promise! And a story of new beginnings!
And it's also a story for every parent with a wayward child.
Have you clung to the Prodigal story? I have!
The word prodigal is a broad term. It can refer to an estranged child – a child who purposely walks away from the family. And the parents have little to no contact.
Or it can refer to a child who embraces a life apart from God. A child, or loved one, who consciously walks away from the morals and values they were brought up with. Biblical ones.
Either one of these scenarios are heartbreaking for any parent.
Here's what we need to know…
There are no guarantees!
Life happens, influences spur decisions, and the way of the world sometimes takes center stage.
I know about this. Do you?
Sometimes I've learned lessons the hard way. There is no magical formula to bring our children home. And most of the time, our words get crushed beneath pride and self-sufficiency.
God has often reminded me of three important things…
Don't give up!
Wait Expectantly!
Keep your hope alive!
Still, it's hard. Isn't it? But it is possible. The way to do this is to keep your focus on the Word of God.
And the best thing we can do is PRAY.
So, I would like to show you what God has shown me as I've prayed for my prodigal.
First…
Pray fervently!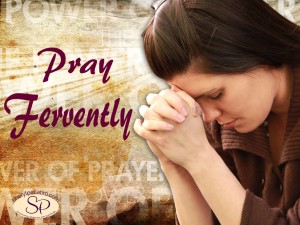 The word fervent means: passionate, heartfelt, and intense. Pray every day. James says that "the earnest prayer of a righteous person has great power and produces wonderful results" (James 5:16). Imagine that!
Use Scripture!
Scripture is a powerful way to pray. Just insert your loved one's name into the verse. Here's an example:
Lord, I ask that _____________ would be filled with the knowledge
of your will. That you would give ______________ spiritual
wisdom and understanding… (Colossians 1:9).
You can do this with any Scripture. I choose verses relevant to what they are going through. I have a bulletin board in my Prayer Room where I post Scripture prayers. This allows me to see them every day when I enter into God's presence.
Use a Prayer Box!
I call it my treasure box. Fill it up with requests and then pull some out each day to pray. I have two boxes (shown here): my prayer request box and my praise box. My praise box is filled with Scriptural promises that I can hold onto and at the same time, reminds me of who God is and what He said.
Praising God is one sure way to keep our hope alive.
Now, as we think about our beloved prodigals, here are some ways we can pray for them:
Pray… For safety! You can repeat Jesus' words for your loved one: "Father, protect [name of loved one] by the power of your name" (John 17:11).
Pray… For someone to come into their life! Ask God to surround them with godly people who will lead them to the truth. Good influences. I'm praying this right now for a couple loved ones.
Pray… That they would see their need for God! Here's a great verse on this (insert their name in the blank): "Open _____________ eyes so he/she would see Your wonderful truths" (Psalm 119:18).
Pray… That Satan would be bound! Let me remind you that you have the power to command his removal. Many times I've paced back and forth in my living room commanding the devil to flee. Sometimes I hold my Bible in my hands and shout: "I command you to leave ____________ alone by the power invested in me and by the name of Jesus Christ." In regards to this, you may want to read another post I wrote on the Battle of the Mind.
And lastly! Here's an important part of this prayer puzzle. Make sure to surrender your loved one into God's hands. Put your hands up and give them over to God.
Surrender rescues us from the heavy burden we are carrying for our prodigal.
Parents of prodigals need hope! I wrote this so that you will have some tools to use as you wait. I hope this has resonated in your heart.
In referring to her brother, Franklin Graham, Anne Graham Lotz says:
Every time I see my brother, I just praise God for God's grace in his life. Because if God can change
Franklin from a prodigal into a man of God, he can do it for anybody.
How true it is! So…
Keep waiting! Keep believing! Keep trusting! Because God always honors the prayers of His people.
Love and blessings,

---
Upcoming Bible study topic
JOSHUA: HEAVEN'S MIGHTY WARRIOR
Begins January 8, 2016