How are you feeling right now? Are you tired? Worn out? Depleted? Empty? Numb? 
Is your life off track?
Well, I'm here to tell you that I can relate, but we don't have to let these things destroy our well-being.
A couple weeks ago, I wrote a posted called 5 ways to Get Unstuck. In that post, I mentioned the knee replacement surgery I had just two months ago. I thought I would share more today because God gave me a powerful word for all of us.
The problems I faced after surgery were deeper than just the physical healing. For weeks, I lost the passion for ministry, and the excitement for life was dwindling. I was empty, numb, and unable to concentrate. I felt distant from God.
And, in my mind, these things are far worse than having my body out of sync.
So more than physical healing, I needed emotional, mental, and spiritual healing. I believe that our emotional, mental, and spiritual well-being are important to keep our joy alive in spite of not-so-good circumstances.
It took every ounce of energy to keep up with my new blog. I wanted to write and research the new Bible study, but I just couldn't concentrate.
I felt helpless and alone even though I had many people around me. I smiled on the outside, but inside I felt weak, powerless, and vulnerable.
I wanted to address this topic today because something tells me that many believers are in a similar place. How we got there may be different, but the darkness is still the same.
We want to feel whole again – to laugh like we used to. We want to enjoy life and to soar with wings like an eagle. We long for healing of the soul.
So, I wanted to share with you what God said to me as I cried out to Him…
Dear One, My Word is My Word. Let My Word replace the empty places in your life – the places that have been taken from you. My Word will make you whole again. It will restore your strength and your passion. Let My Word pour over you like rain and saturate your whole being. My Word is a healing balm – it can penetrate to the depths – it goes between joint and marrow. There is nothing that heals more wholly than My Word. 
These words penetrated my soul. In fact, I haven't been able to get them out of my mind.
As I pondered this, I understood what God was saying. Reflect on these words: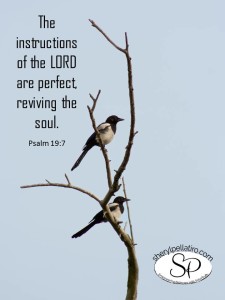 "The instructions of the LORD are perfect, reviving the soul" (Psalm 19:7).
"He sent forth his word and healed them" (Psalm 107:20).
"People do not live by bread alone, but by every word that comes from the mouth of God" (Matthew 4:4).
"For the Word of God is alive and powerful" (Hebrews 4:12).
I gasped at these words. And decided that I would do exactly as God instructed. I would let His Word splash over me as a healing balm.
Here are a couple ideas that I've incorporated into my day. You may want to try them too.
1. Sit and read God's Word out loud!
I have a confession to make. As a Bible teacher, I read God's Word, but usually in the context of writing and researching. Of course this is good, but it's not what God was telling me to do.
I do think that sometimes our Bible reading is in the context of Bible study.
But, God instructed me to sit and just read it out loud. So, I've been practicing this simple exercise throughout the day. No notes. Just a few underlines and highlights.
I chose passages in the Old Testament and the New Testament. I also chose books of the Bible I haven't read in awhile.
God is speaking to me!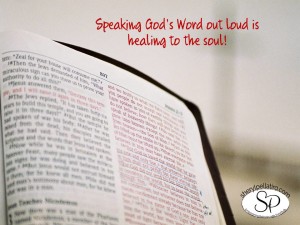 Speaking God's Word out loud seems to pierce my heart more. As the words come out, my soul feels the healing powers of His Word.
And here's the awesome thing: in just a short time I'm seeing the passion return, the excitement renewed, and the emptiness gone. I'm beginning to feel whole again.
I hope to continue this for a long time to come. God's Word really does have the power to heal!
2. Listen to an audio version of the Bible!
I was in the kitchen today making dinner for a girl who just got out of the hospital. As I worked, I listened to an audio version of the Gospel of John. It was so amazing!
You can find an audio version of the whole Bible online (YouTube). Click here to listen to the Gospel of John.
Some people use Bible audio tapes in their car. I plan to do that eventually.
There's not a better way to have God's Word wash over you.
Here's the thing… there is not a better source of healing than the Word of God. It's better than a good counseling session, a resource book, time away, and using essential oils. 
All these things are good, but God's Word is far better at healing the body, the heart, and the soul. 
So, will you try it? Will you try letting God's Word be a river of life to your body? I know I feel better. I hope you will too. 
Love and Blessings,