I know I don't have to tell you what a crazy mixed-up world we live in. My 80 year old mom often says that there is no place in this world for her.
I know what she means. This world is not the same world she grew up in. It's not the same world I grew up in either. And it's getting scarier by the day.
Our spirits are troubled by the immorality, pornography, adultery, abortion, and drug and alcohol abuse. Not to mention the magnitude of suicide.
We cringe at how materialism, consumerism and greed have defined the American dream.
Unethical politicians, racism, killing babies and selling their body parts, and pursuing power rather than keeping people safe has become the norm in our world.
We cannot wrap our minds around what professors are teaching and the lies students are embracing.
It seems that every day, we witness violent acts that are often tied to terrorism. Scary!
And for believers in the United States, there is something else truly alarming. We are slowly losing our freedoms.
Christianity is under attack!
Our future hangs in the balance!
No wonder fear has gripped believers. We want peace, but it oftentimes seems unreachable because we see horrible things every day and the atmosphere is getting darker.
Our world, our country, our communities are becoming Satan's playground – his battlefield.
I remember one day when my heart was consumed by fear. The circumstances in my life were overwhelming and I felt panic creeping in. I decided to take a walk. And as I cried out to God, this is what He said to me:
I am still God!
I am still seated on throne!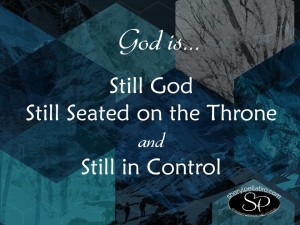 I am still in control!
I knew then and there I couldn't let fear rule. Getting rid of fear is a growing process, but when I'm faced with challenges, I always go back to these three statements. Our God is sovereign!
As we think about the fear that has constrained many – and maybe even you – and the peace we so long to experience, we need to go back to Scripture and hear what God has to say to us.
So, let's begin…
We have nothing to fear! Nothing – absolutely nothing – can separate us from the love of God (Romans 8:338-39).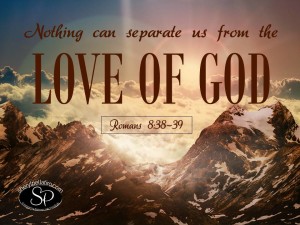 That means our fears for today and our worries for tomorrow. Nothing!
It also means that Satan and his evil partners can never stand in the way of God's love for you. Never!
God's love is a banner over you (Song of Songs 2:4)! His love washes over you like a never-ending waterfall. Always!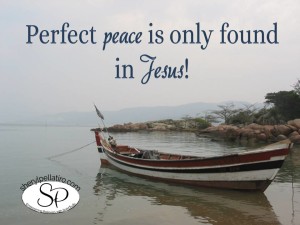 Perfect peace is only found in Jesus! The disciples would enter a hardened world after Jesus was gone. So on that last night – before His death – Jesus said to them, "I am leaving you with a gift – peace of mind and heart" (John 14:27). 
Hence, they would have true peace in the midst of difficulties. Guess what? He's given us the same gift.
Perfect peace is found by fixing our eyes on Jesus! We certainly need to know what's going on in the world, but only watching the news can keep our minds traumatized and fearful. As I stated in my Battle of the Mind post, Satan's first place of business is our minds. So, let me encourage you to keep your mind fixed on God's Word more than on the T.V.,  the Internet, or the newspaper. 
It says in Isaiah 26:3 that "[we] will keep in perfect peace all whose thoughts are fixed on [God]." 
Perfect peace is found in prayer! The Apostle Paul couldn't have said it better: "Don't worry about anything; instead, pray about everything" (Philippians 4:6). The result? "You will experience God's peace, which exceeds anything we can understand" (Philippians 4:7). 
In his book, Fresh Wind, Fresh Fire, Jim Cymbala says: "The apostles had this instinct: When in trouble, pray. When intimidated, pray. When challenged, pray. When persecuted, pray!" There is no better advice!
Perfect peace can be attained by letting the Spirit control us! We read in Romans 8:6: "Letting the Spirit control your mind leads to life and peace." It's easy to let our emotions control our words and actions. Trust me, I know! But nothing good ever comes out of that.
We need to let the Spirit of God control our minds by following His leading. Obeying God's Word! When we do this, we have greater peace.
Now, here is the challenge to you. If you are feeling scared, anxious, or fearful in any area of your life, go take a walk and breathe in these truths. Keep these words before you. You may want to recite them out loud again and again.
Love and blessings,