In the 70's, I remember reading a powerful book: "Satan is Alive and Well on Planet Earth" by Hal Lindsey.
Let me tell you something! Forty plus years have passed since that book was written. And Satan is more alive now than ever before. He is roaming this earth and gathering up more and more evil plans.
Families are under attack. Our children and grandchildren are faced with insurmountable pressure / temptation. Our country is losing its freedoms. Truth is at the center of controversy. And the Church is Satan's #1 target.
I feel inadequate to write this message because I don't know a thing about war – real war. But what I do know is that you and I are Christ's ambassadors and we are called to the front lines of this spiritual war.
So, we better have a battle plan.
We need to fight for our families, fight for our loved ones, fight for our country, fight for the Church. And we need to fight for TRUTH.
Author and Bible teacher, Kay Arthur, once said, "God needs valiant young men and women who will stand and hold forth the Word of God in the midst of a wicked generation."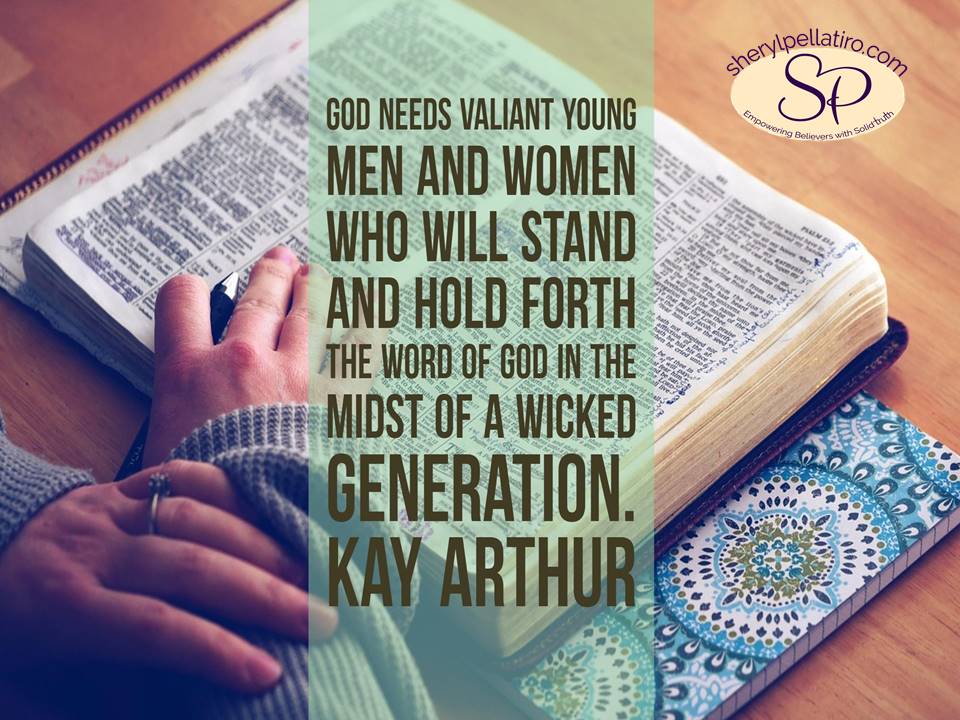 This morning in prayer, God reminded me to not give up, but to fight!
It's easier to give up than to fight. But if I don't fight for my loved ones, who will?
Jude writes to believers: "Dear Friends, I had been eagerly planning to write to you about the salvation we all share. But now I find that I must write about something else, urging you to defend the faith that God has entrusted once for all time to his holy people" (Jude 3).
Hence, Jude is telling us to FIGHT!
Fighting doesn't mean that we stand on the battlefield and wave those little white flags of surrender. Surrender to God, YES! Surrender to the enemy, NEVER!
This war is real! Dirty! And it's escalating!
Wherever Satan goes, there's chaos. Chaos in the world. Chaos in the Church. Chaos in hearts.
Friends, there's only one thing we can do… FIGHT!
We will need to get dirty, though. No soldier ever comes off the battlefield clean. We'll need to crawl through the mud to fight this war. It's a hard and grueling war. Fierce! 
But here's the good news. This war cannot be won with human weapons. This battle cannot be fought in our own strength. If we try that way, we'll fail every time and the enemy will stomp us to the ground and crush every bone in our bodies.
God knew all about this war before you and I were ever born. Before the foundation of the earth. So, He gave us tools. He trained us.
But we need a battle plan. Here are 5 things to help…
1. Write down who and what you are fighting for!
Write down the names of your family members, the issues facing our country, the relevant topics, and the institutions you plan to fight for. 
Post them in a place you will see them.
2. Write down specific things you're praying for!
What are you praying for?
Family members: For their salvation. For their walk with Christ. For the truth to take a hold of their hearts. That they would return to what they've been taught. 
Church: That your pastor would stay true to the Word of God. That the corporate church would raise up warriors. 
I think about Miss Clara (in the movie War Room) kneeling and praying, "Lord, call us to battle that we proclaim you King of Kings and Lord of Lords. Raise up warriors, Lord!" We should pray the same thing.
Our country: That believers would vote the Bible – for the things that best represent biblical values. That more Christians would stand up for truth and not back down. That God would protect our nation from attack.
Current issues: Pray that God would intervene and destroy any form of evil. Pray that God would use everything for His glory.
Ask God how you should pray and write it down. Pray specifically.
3. Collect your verses!
The Bible tells us that the Word of God is our sword (Ephesians 6:17). So, pull out your sword from its sheath because it won't do any good if it's not front and center, ready to destroy the enemy.
Find verses that pertain to what you're praying about. Write them out and post them where you'll see them.
Satan cannot stand in the face of Scripture. He'll flee every time. This is our real defense.
God has given us His Word to fight this war. Let's use it!
4. Speak them out loud!
Satan can't hear your thoughts. Praying silently is good, but praying out loud is even better.
Pace the floor if you need to. Shout the Word out as you approach the front lines. Your loved ones deserve the best fight. The Kingdom of God needs strong warriors. 
Beth Moore said that if her family were under attack, she would speak so loud that the dogs would run under the bed. 
This is one powerful way to ward off the enemy's tactics and bring truth back. 
5. Use your sword every day!
We cannot afford to miss one day without fighting. We can't afford to rest.
James says, "The earnest prayer if a righteous person has great power and produces wonderful results" (James 5:16). Did you catch the word earnest? 
Basically, he's saying that we need to pray fervently. To give it everything we have.
Today's message is burning in my heart. I need to become more proactive in this war. How about you? 
Will you follow these simple steps and fight?
Blessings,