I was brought to tears on January 20, 2017 as I watched the next president of the United States being sworn in.
I admit that I haven't always tuned into past inauguration festivities – especially the swearing in of a new president – but this particular one I couldn't pull myself away from. I believe that Donald J. Trump was appointed by God (Romans 13:1). Yes he's flawed, as we all are, but God can still use him. And I believe will use him.
You may be on the side of those protesting your new president, so know that this post is not to disrespect your opinion or the candidate you voted for. Or even if you voted. That's between you and God.
I will tell you this, though. Our country needs healing. Friendships need healing. And most importantly, the Church needs healing.
I'm sure you've noticed how divided the church is. In his inaugural speech, Donald Trump quoted this verse: "How wonderful and pleasant it is when brothers live together in harmony" (Psalm 133:1). Then he said, "When America unites, America is unstoppable."
Oh my goodness, unity is so important. In the country. In the family. In the corporate world. And especially in the Church. The Apostle Paul urged unity in the Church throughout his ministry. Because when the Church is not unified, the cross is emptied of its power, the gospel is hindered from going out, and the work of the kingdom is thwarted. Then guess what happens? 
Satan throws a victory party.
This is not something we want, so listen to what God says:
"I urge you, first of all, to PRAY for all people. Ask God to help them; intercede on their behalf,
and give thanks for them. PRAY this way for kings and all who are in authority
so that we can live peaceful and quiet lives marked by godliness and dignity."
1 Timothy 2:1-2
Praying for our leaders is not an option or a suggestion. It's a command! A mandate!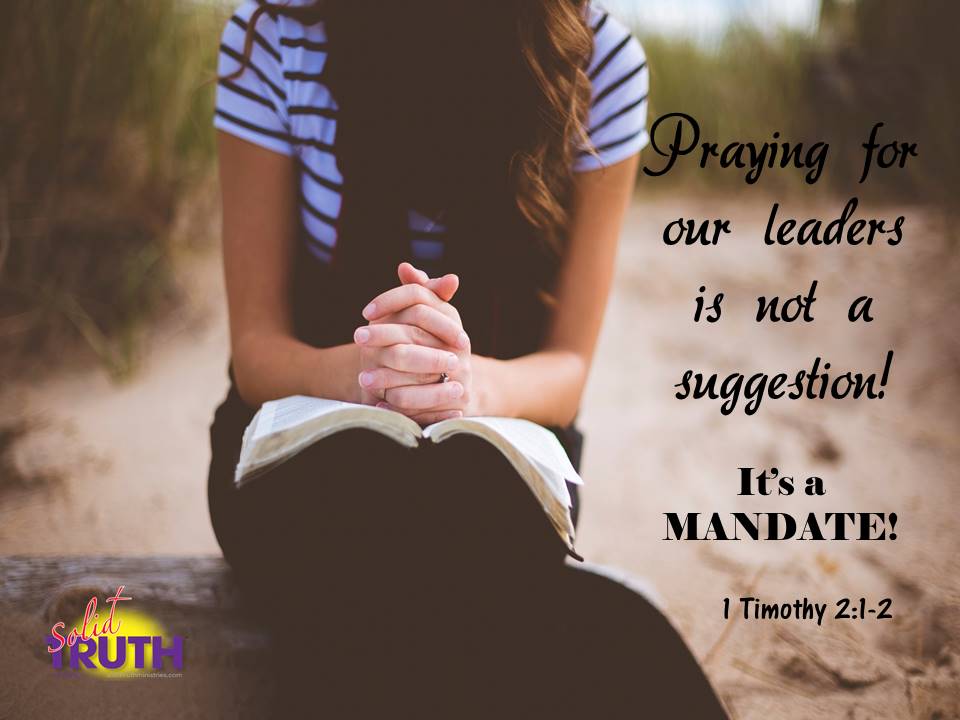 In fact, there's nothing better we can do for those in leadership than to pray for them. Read carefully the following quotes:
"We must trust God with what we can't control!" (Dr. David Jeremiah)
"A teardrop on earth summons the King of heaven." (Chuck Swindoll)
"The king's heart is a stream of water in the hand of the Lord;
    he turns it wherever he will." (Proverbs 21:1)
Without a doubt, God can turn the heart of leaders. But the peoples' prayers factor in that big time.
Here are a few things praying for our leaders does:
Prayer will…
Erase anger

Unite the Church

Move the hand of God

Pour out God's blessings
With these words before me, I find that I'm convicted deep in my spirit. I haven't always been faithful to pray for the leaders of our country, or the leaders in the Church. So, I'm making a commitment to do that on a daily basis. Will you join me?
To get us started, here are some verses we can pray together. Just insert a leader's name:
Lord…
Show [Name] that there is no other way to salvation, but by Jesus Name (Acts 4:12).
Help [Name] to repent of his sins and turn to God (Acts 3:19).
Open [Name] heart so he will accept what you are saying (Acts 16:14).
Help [Name] to receive wise leadership from advisers (Proverbs 11:14).
Strengthen [Name] and protect him from the evil one (2 Thessalonians 3:3).
Give [Name] wisdom and understanding to obey your commands as he leads (2 Chronicles 22:12). 
Let your Word be a lamp to [Name] feet and a light to his path (Psalm 119:105).
Humble [Name] (1 Peter 5:5).
Clothe [Name] with tenderhearted mercy, kindness, humility, gentleness, and patience (Colossians 3:12).
Okay, so will you join me in practicing this strong mandate – to pray for our leaders? Please put yes in the comments section if you will commit?
We serve a mighty God. Let's do our part to keep unity in the body of Christ and in our country. And then let's trust God for His blessings and stability.
Blessings,