Christians often believe that if they are serving the local church—teaching a class, serving on a committee, singing on the praise team, leading a small group, shaking hands on Sunday morning, working with children, or participating on the prayer team—they are following God's mandate of good deeds.
Nothing could be further from the truth.
Of course, these are all good things and each one is needed in the local body. You and I should volunteer at our church. But to live with an active faith, we need to examine Scripture more closely, especially the Book of James.
As we continue to explore an active faith, know this: a faith that brings glory to God is not easy. It often goes against every fiber of our being and may even call us from our warm comfortable places into cold unpleasant dwellings.
We read in James 2:17 that "faith by itself, if it is not accompanied by action, is dead."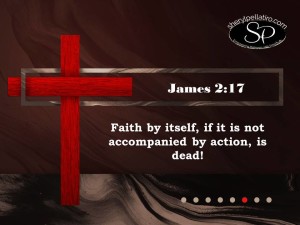 I'm sure you would agree with me when I say that there is no life in death. Something that has died simply does not work.
Here's a true reality: sometimes our faith can resemble death—no life, no breath, and no fruit. In other words, we believe by putting our faith in Jesus to save us—and that's all that's needed for salvation (John 1:12)—but sometimes that's as far as we go. Our faith lays dormant. And this is certainly not a faith that glorifies God or one that He chooses to use.
Let's now consider three details of a faith that doesn't work using James 2.
A faith that doesn't work…
Show's favoritism!
James 2:9 says: "If you favor some people over others, you are committing a sin. You are guilty of breaking the law."
Cliques are common in the church. I understand that some groups have been together for a long time, but it's always a good practice—and biblically correct—to invite new members to join. Cliques can leave people feeling wounded and crushed. We sometimes choose our friends based on those with the most money, are the most outgoing, have the best family, have the most prestigious job, or are the most talented.
I believe this verse in James is about accepting everyone and not secluding oneself from those less fortunate or those with the greatest needs.
The ones shunned are those who really need to find true healing through Christ and showing favoritism only hinders them. Showing favoritism is not demonstrating true Christianity.
Second, a faith that doesn't work…
Becomes its own judge!
You may want to read James 2:10-13 for reference.
Whether we intentionally do it or not, don't we regularly obey some commands and ignore others? Maybe it's because we see some sins in the Bible as more important. I've mumbled that I don't understand churches that condone homosexuality when the Bible plainly speaks out against such acts (Romans 1:26-27). I wonder how they can pick and choose the commands to which they will obey.
But don't we often do the same?
Paul says that "All Scripture is God-breathed (2 Timothy 3:16)."
There isn't a more authoritative account in the entire Bible that spells out inspiration better than this one. The Bible may have been written by over forty men and spans centuries, but each word was written under the inspiration of the Holy Spirit (2 Peter 1:21). God is the One who wrote the Bible. The authors were just vessels.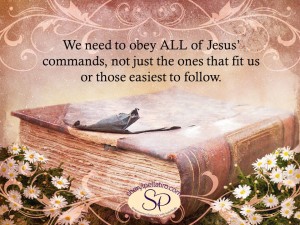 And since all of Scripture is God's authoritative Word, it's important that we strive to obey all of His commands, not just the ones that fit us or those that are the easiest to follow.
By choosing our own set of standards, we become our own judge.
Third, a faith that doesn't work…
Is a solitary faith!
A car without the engine cannot run. A door without the hinge cannot swing. A watch without the battery cannot tick. A body without a heart simply cannot live. The same is true about faith.
A faith without deeds is useless, dead. It just doesn't work.
Again, we read in James 2:17 that "faith by itself, if it is not accompanied by action, is dead"
You see, my friend, faith alone does not catch God's eye or His favor. We read that "even the demons believe" (James 2:19). A faith that doesn't work is one that is all alone, a solitary faith. To live with an active faith, we need to add good deeds onto that faith.
I hope today's lesson caused each of us to examine our faith a little deeper. In our next blog, we will examine a faith that thrives. 
Please use the comment section to tell us what you think about today's lesson.
Love and Blessings,